Discussion Starter
·
#1
·
Started the day off on the wrong foot by oversleeping an hour
.Got to Sandy Point at 8:20 instead of 7:30am but fellow Tfer AIK68J (John) and his son Brian were not too mad.They saved me a few donuts
. My son Tyler rounded out the crew.We quickly launched the boat and Tyler guided her out as we got the trolling rods ready.Smooth water meet us at the jetty and Tyler ran her at 30 knots towards the LP marker.Stooped about 1 mile south of it and set out the rods as we headed north in 45 feet.Saw some bait/Rock on the meter-scattered at 15-30 feet.Water temp. was 59*.Put out only boat rods- no planers.There are crab pots (hawks) scattered around in the deeper water.Here's the spread.Speed was 2.8-3.0 mph.
Downrigger @ 35 with chart. umbrella (small 6 arm) with chart. Storm
Downrigger @ 25 w 12'' red hose.
100' wire 20ozs w white Storm (black dot)
125' 20 ozs w red hose (swapped to white Storm)
150' 10 ozs Tony #17 (silver)
175' 4 ozs Golden Mullet Storm
200' tandem 4 oz white bucktail/6'' white shad - Golden Mullet Storm
All rods carry braided line except wire and downriggers (50 lb. mono).
Once the 7 rods were out-we zig zagged north going into 32 feet and out to 50 feet.Most bait was in 40 feet so we worked that area hard.Tide was just about high and the current was slacking.Took about an hour to get the first hit-wire rod.Brian did a good job reeling it in and John helped move rods out of the way.Soon a nice Rock was on ice but not before a quick photo :thumbup:.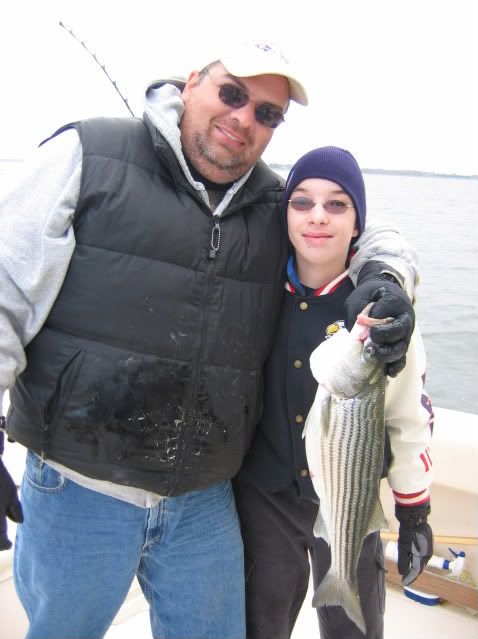 We were almost up to the green #1 can when the down rigger with a red hose got hit.The scrappy 19 incher ate a lure 3/4 his length
.Turned back to circle the area but did not get anymore hits.My crew was nodding off-trolling can be boring if the bite is slow.The calm waters and peaceful quiet soon had my net man out cold
p.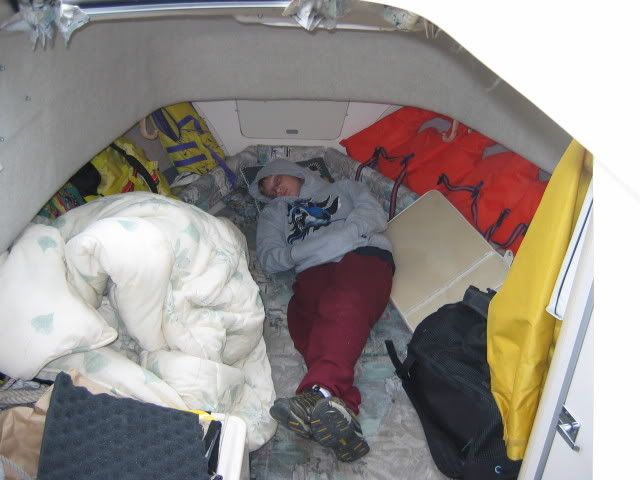 Worked towards Love Point - there is a cool deep area due west of it.The water goes from 40 feet to 50 feet- heading east.We saw alot of good marks but could not convince any Rock to hit.Tried all different directions and speeds but nothing worked.More boats were out now and some were casting to birds up near the point in 20 feet.We worked south with the now outgoing current- searching for fish.Found a nice Rock about 24'' near the LP.It hit the umbrella off the downrigger.John reeled it in and that made #3 in the box.Heard some chatter over the VHF- alot complained of 16-17 inch fish.Luckily all our bites were keepers.Worked south towards the bridge-I went west towards the channel but saw little on the meter.Tried the end of the sewer pipe at 43 feet but no one was there.Some years this gives up bigger fish ;-).Crab pot floats were thick near the bridge so I trolled between the spans going west.Current was now ripping - the boat "skidded" on an angle.Figured we would troll to the eastern rockpile- then pull the gear and try jigging.About 1/8 before the rockpile-the downrigger with the umbrella got hit and John reeled in a fat 23 incher.We saw no other boats at the rockpile and trolled past it- watching the meter.Saw a few fish so we racked the gear and got out jigging rods.Tyler saw a jacket barely floating and netted it.If anyone lost a brown XL Boat US slip over wind breaker-let me know.We tried a few drifts jigging but only had two pecks-most likely small Rock or Perch.Headed in at 4:00 pm and got to the ramp at 3:10
. I forgot to set my GPS clock back - OOPS.Not a banner trolling bite but still nice to be out fishing.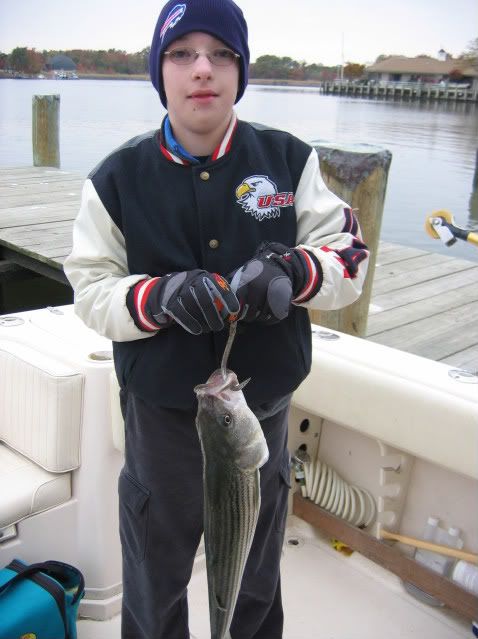 Brian is all set when the bigger Rock show up :yes:.