Discussion Starter
·
#1
·
Check It Out ! ! ! ! ! ! ! ! ! ! ! ! ! ! ! ! ! !
Lots of pics too ! ! ! ! ! ! ! ! ! ! ! ! ! ! ! !
:thumbup:
My buddy Martin and I caught a ride with Rich and Rich's neighbor John, one of his neighbors from his on-the-water towncrib complex. The Poolman cleared the Ft Pierce Inlet in darkness. We got bait at Buoy 10 and 12A then went out to some ledges. Rich, John & I were using live baits and dead baits and Martin was using his cool spinning rod/braided line/butterfly jig combo. Nada. We were Lesbian Fishing, so it was Splitsville.
Went to the local Ft Pierce Tiley Town (as seen on COPS! tv). Rich's next-slip-neighbor & his family joined up next to us on their boat and we all began to deepdrop. The action was immediate and steady although it wasn't a blistering hot bite. It was a pleasant, steady bite. We got our four G-Tiles, all in the 5-10 lb class and left to go "shallow" for grouper & snapper. Rich's neighbor was having a slow pick compared to us so they kept on deepdropping as we left them. Martin settled down on some beanbags for the long trek.
G-Tile, 8lbs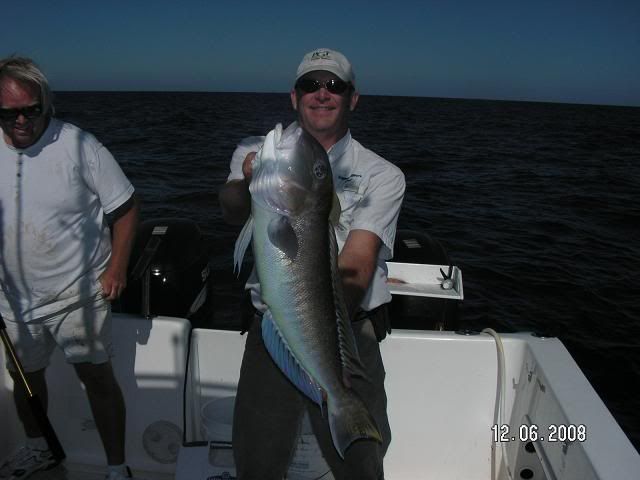 Next, we went to the SW corner of the OB and didn't get any bites at our usual spots nor did we see anything really decent on the screen. Splitsville.
We went to one of Rich's spots further north and shallower and anchored up. GOOD marks on the screen, what Rich called "Christmas Trees". The bite was very slow at first. We tried every bait known to Mankind:
-squid
-squid with sheddercrab oil
-Spanish Sardines
-live hardtails
-live grunts
-dead Spanish Mackerel
-hand grenades
Nothing worked.
Our old pal the M/V Wesertor showed up, but later than usual.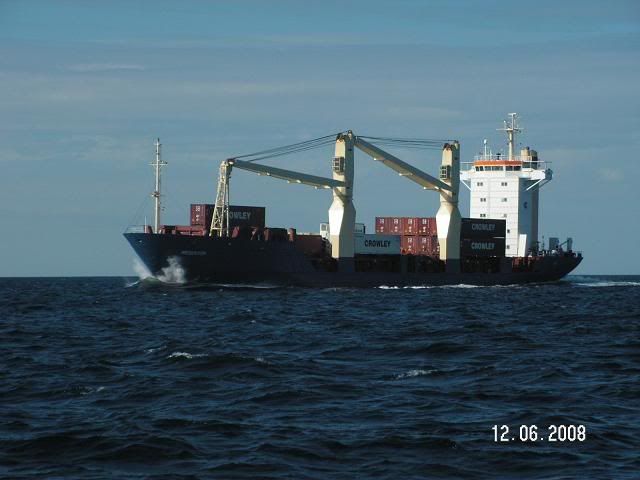 But then the sun started slouching to the horizon and we started getting a few nibbles but no hookups.
Then the bite turned on, On, ON. Rich has a nice spinning rod & reel combo spooled with 40# braided. He was deadsticking it in the rodholder while he tended a kingfish rod with a live hardtail on the surface plus a standup Penn 30 with squid on the bottom. He was busier than a one-eyed cat looking at two mouseholes!
Then Rich's spinner gets bent double and the fight was on. After about 5 minutes of drag-pulling & tussling, a BIG Mangrove pops to the surface. I lip-gaffed it and hefted it onboard. It was Rich's biggest Mangrove ever and it went 12 lbs even. It bit on a Spanish Sardine rigged on a single 5/0 J-hook hook buried in the meat and with the tail snipped off for flava.
Rich's biggest Mangrove evuh - 12 lbs even. Is dat a happy sum***** or what?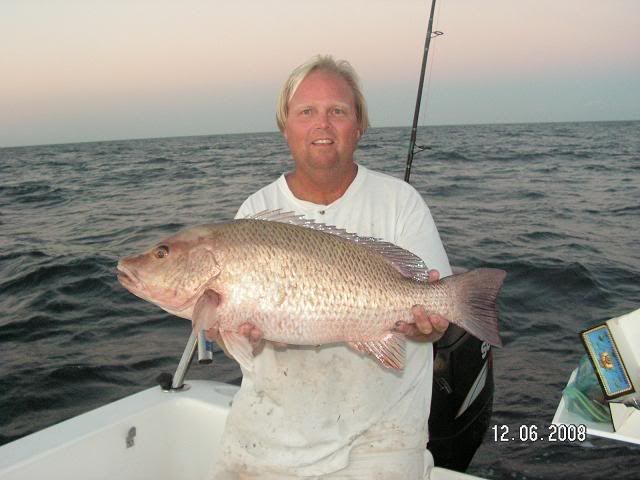 John switched over to a spinning/braided combo and got a big Lane Snapper and a several big Mangroves. Rich got three more Mangroves and I got a big Mangrove too despite my Olde Skool rod. My rod's ceramic tip had a damn chip in it and it kept chafing off the line so I had to jury-rig it with the line coming off the next guide.
My baby Mangrove - actually it was my second largest ever. My biggest went 14lb-40zs back in Nov-05, same location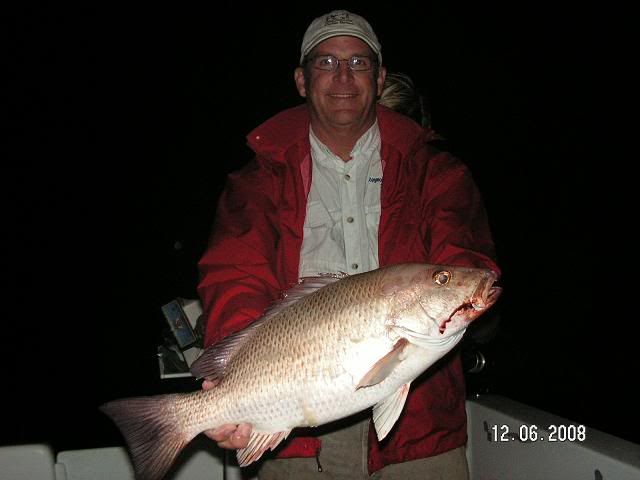 I'm convinced/sold/enlightened/brainwashed/converted/seen the light/whatevuh that for shallow water bottomfishing (less than 100ft), the best way to bottomfish for Snapper is with a heavy spinner spooled with braided. Especially if you are anchored. Let's face it, most of the time the bottomfish you are getting are grouper & snapper less than 10 lbs. Very seldom do you have twenty lb plus fish jump all over your bait. Thus you can get away with a spinner.
The spinner allows you to cast your rig out away from the boat and increase the amount of area that you can cover without having to reset the anchor. At the same time, you can deadstick a heavy rod and keep your bait suspended just above the bottom to prevent rockups.
Rich, thanks again for one of my better days ever on the water. It was fun and a great learning experience.
Mark
Catch-All