Discussion Starter
·
#1
·
We're hammering snook now that waters are approaching 60 degrees or lower. Jim, a client from Port Charlotte, had a 30 snook day on flies and Sebiles Friday, just before the cold front came in Saturday. The fish are beginning to accumulate in canals, creeks and deeper estuaries. With my Gheenoe, I'm able to target areas that flats boats dream of entering, many times walking the boat over a bar with 3 inches of water depth. This is the best time to get a shot at a large snook on fly, however, they didn't get to that size by being stupid. You need to be very stealth. These fish don't need to be up against the mangroves this time of year, although deep cut banks of creeks or rivers would be a great place to target. Albeit, one of the largest snook Ive caught was in the middle of a narrow creek, sitting in a deep hole.
I'm continuing to take dissolved oxygen (DO) readings in the tributaries, bays, rivers, and creeks of Charlotte Harbor. Some of these results can be seen in the Waterlife Magazine, which is free, if your in the area of SW Fl, or you can find at

www.kidscuptournament.com.

Good DO, > 5 parts per million can be found in fast moving waterways or where there is a splashing discharge of water into a waterway from another source. Areas of high DO will usually result in greater numbers of baitfish, crab & shrimp, as well as an abundant supply of crustaceans on the bottom, which will then bring in larger fish on the food chain. Also, great knowledge of the bottom floor of a waterway can improve your odds at catching fish, whether your ocean or pond fishing.
Remember to support larger snook with 2 hands, such as the bottom photo, they are an important resource in our fishery. Snook regs-
Snook
(All species) Not less than 28" or more than 32" Atlantic; Not less than 28" or more than 33" Gulf, Monroe County, Everglades Nat. Park Dec 15 - Jan 31, June-Aug. Atlantic; Dec.-Feb., May-Aug. Gulf, Monroe County, Everglades Nat. Park1 per harvester per day
Snook permit required when saltwater license required. State regulations apply in federal waters. Illegal to buy or sell snook. Snatch hooks and spearing prohibited.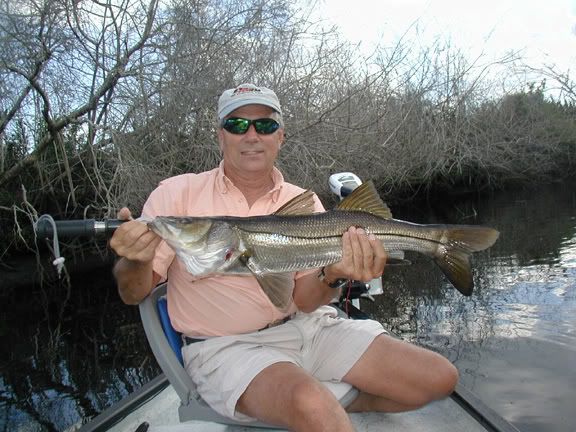 Capt Frank
Southwest Florida Salt Water Fly Fishing Guide