Discussion Starter
·
#1
·
January 25, 2007
February Fishing Forecast for the Treasure Coast
Inshore:
Spring is just around the corner! It's time to get out fishing. Can you believe that it is already February here on the Treasure Coast. With still a few cold fronts to blast through the area, it has been a mild winter so far and the fishing along the Indian River
has been good. Look for winds to continue to blow this month, but finding a place to fish won't be hard in the river. Spring isn't far off!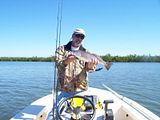 Keep a stealthy mode on the flats in winter....
Last year, the redfish were beginning to school up in small groups on the flats. With mild water temperatures, look for them to start hanging around together soon. Gold spoons, top water, soft baits and live/cut bait should get them to the boat. Watch the water…they can be out there sunning and you might never notice them. The normal areas, like Queen's Cove and Round Island will be the usual haunts for redfish. Remember to keep a quiet, stealthy mode on the flats this time of year.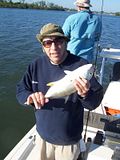 Tom Ganetis shows that jacks can be fun too!
Lots of snook anglers will be out this month in search of that secret spot for keeper linesiders. The inlet, bridges and docks will be first choice for most anglers. Around the mangroves will also be a great area to look for snook. Live bait and red tail hawks will be the best baits around the inlet areas. On the flats and docks, try live shrimp, top water and twitch baits for a chance at a hookup. With lots of anglers awaiting snook season opening...it will be busy on the water the first part of the month!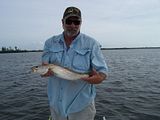 Trout will still patrol the river in winter....
Trout will be hanging around in the deeper cuts of the river. Look for two to four feet of water that is clean for trout to be feeding. Live shrimp on a popping cork is always a great choice of bait. Also try, top water, jerk baits and twitch baits out there. Harbor Branch and the Power Plant flats are usually clean and hold trout most of the year. With some of the windy weather still ahead, some day might be a challenge to find clean water during the month.
Pompano should be cruising the river and beaches in February. Keep a small jig or sand flea ready if you find a school of them. The bite has been slow in January, but should kick off any day now. Bridges will be holding sand perch, black drum and sheephead during the month. Live or dead shrimp will be the best baits for them. Look for bluefish and spanish mackerel to be around the inlet and surf. Ladyfish and jack crevalle will still be cavorting around the bait and willing to give you a good fight on light tackle. Get the kids out one weekend and have some fun with them!
Tip of the Week:
Remember! Snook season re-opens February 1st. Be well aware of slot sizes and limits and…..have you checked your license and snook stamp lately? Don't get caught without them! Enjoy some great fishing in February!
As always, remember, fishing is not just another hobby....it's an ADVENTURE!!
Good Fishing and Be Safe,
Captain Charlie Conner
www.fishtalescharter.com
email:
[email protected]
772-284-3852