October 24, 2008
INSHORE:
In spite of a blustery week of windy weather, we managed a couple nice days to get out on the Indian River and find the fish in the mood to eat some baits. We had to cancel a few days due to the conditions. Looks like this next week will continue with strong winds and rainy days in the forecast, so plan your ventures wisely out there. Inshore has been fishable, but offshore still has been difficult most days to get out.
Todd Dziak and his dad, Fred, were out with me this past week and we encountered lots of trout and jacks on the flats on a near perfect day for fishing. Richie and JoAnn Adams also had some nice weather the day we fished the Indian River this week. Once again, the fish were feeding and we had a great day on the water. We caught a variety of fish this week on the Treasure Coast.
We fished some docks on the outgoing tides for snook this week. Richie and JoAnn caught a half dozen snook in the 22-25" range and lost one big snook under the docks. Fishing the outgoing tides has been the most productive around the inlets and bridges as well. Live baits have worked best for us, but some are still being taken on artificials, especially around the jetties.
Richie landed a nice 26" redfish from under a dock as well while snook fishing. He even caught a few gag grouper both at the docks and on the flats. We spent the rest of our trips on the flats catching lots of trout up to 22" and many jacks. Todd, Richie and JoAnn had a busy, but fun time catching and releasing a lot of fish on their adventures. We have still been fishing mostly south of Fort Pierce down towards the Power Plant on the eastern side of the river.
Bridges have continued to hold sand perch, black drum, snapper and some croakers on live or dead shrimp. The surf has been pretty quiet with the strong northeast winds coming onto shore. The jetties have held snook at night and jacks, bluefish and mackerel most of the time on active tides. It a good time of year to play around with a top water lure around the inlets.
Tip of the Week:
Now that fall is showing signs that winter isn't far off. It's a good time to check on your batteries and make sure they are in good working condition. Cold weather and batteries don't always make a good combination. As the temperatures cool off, if you are going to have battery problems, it will most likely happen on a cold morning when you least expect it. Clean terminals for good contact and replace any worn or corroded cables that can cause problems. If a battery is in question, most places that sell them will also check yours out to see what condition it is in and if replacement is necessary. Oh...and you might locate those long johns soon, too!
As always, remember, fishing is not just another hobby....it's an ADVENTURE!!
Good Fishing and Be Safe,
Captain Charlie Conner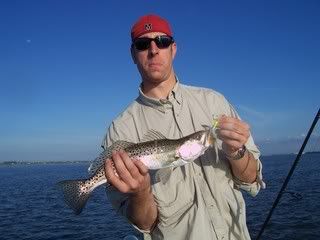 A few of Todd Dziak's catches this week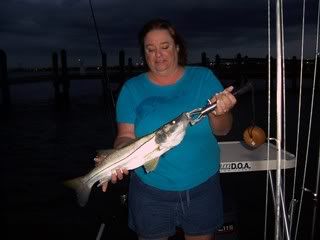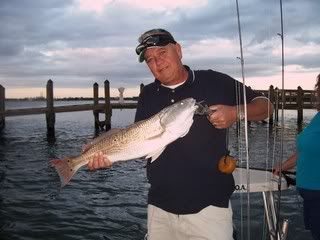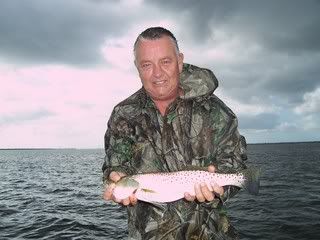 Richie and JoAnn with a few of their catches