Discussion Starter
·
#1
·
January 11, 2007
Inshore:
One of our usual cool fronts has worked its way across the Treasure Coast the past few days, bringing cooler night temperatures upon us. It looks like the next week should be great weather for anglers in the area. We will continue to have our normal windy days, but there are plenty of areas to fish out of it. Hope you had a chance to fish this week.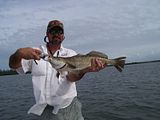 Capt. Pat Wells with a nice 6 pound trout taken on the flats this week....
Trout fishing was our target the past week. We fished several areas and where we found cleaner water, we found trout on the flats. With the warmer water before the front, the trout were hanging in one to three feet of water. Capt. Pat Wells went fishing with me last friday and we found good numbers of slot size trout biting and caught two that hit the 25" mark. With the winds changing continually, you will have to check out the usual areas for clean water. Live shrimp, soft baits and twitch baits have worked best for us this week.
Capt. Pat with another over the slot trout from the Indian River flats...
Snook fishing slowed down for us this week. They are still hanging around the mangroves in the deeper cuts. As the water warms up some this week, look for snook to be hitting the flats for a snack. Try top water if the conditions permit or a slow sinking twitch bait if it is choppy. Don't forget to try around the docks early with live shrimp.
Redfish are still being caught, but most reports continue to be from the south of Fort Pierce on the flats. Live shrimp, gold spoons or soft baits are the best choices right now. You can also find some reds hanging around the docks on the west side of the river. I'll be heading south this weekend to look for some.
If ladyfish had wings, they would probably be as thick as mosquitoes! It's a good time of year to get the kids out and show them some fun on the water. Watching that smile on a young one when a ladyfish or jacks hits their lures is worth it! Jacks are just about as thick out there. Have some fun this week! Along the inlet has anglers fishing for sheephead, sand perch and black drum around the bridges. In the surf, whiting, bluefish and occasionally pompano can be caught. Pompano reports are still not much to speak of for now.
Tip of the Week:
Winter is a great time to check over your equipment in anticipation of spring fishing. With so many windy days, there will be lots of opportunities to change line, check reels and clean out the ol' tackle box. Spring will be here before you know it and being ready to enjoy the great fishing is important to us all. Rummaging through a tackle box will sure bring back summer memories of fishing adventures past.
As always, remember, fishing is not just another hobby....it's an ADVENTURE!!
Good Fishing and Be Safe,
Capt Charlie Conner
www.fishtalescharter.com
email:
[email protected]
772-284-3852