Discussion Starter
·
#1
·
February 8, 2007
Inshore:
Weather...and the Super Bowl....played a large part in this weeks fishing chances. Lots of wind and some rain kept most anglers off the water most of the week. By Tuesday it finally began clearing up and brought some great fishing weather to the Treasure Coast area. Lots of boats were heading both inshore and offshore.
Snook fishing around the inlets improved this week both around the bridges and on the jetties. I spoke to a number of snook anglers who caught their slots along with a good number of shorts. Live bait and jigs have worked best for inlet anglers. Most have been caught at night. Snook are hanging around deeper mangroves, but most will be shorts. Try soft baits along mangroves. Mark Amorello did boat a 20" snook from under the mangroves this week.
Trout fishing was probably the next best catch on some days this week....if you could keep the ladyfish off your hook. Tuesday, we found them hitting soft baits on the flats north of Fort Pierce. Try Queen's Cove for them. South of Fort Pierce there were a several areas that held trout. Herb Ladenheim reported that on Wednesday they boated a dozen trout on soft baits. Congratulations goes out to Herb. Don't forget to try live shrimp for trout.
Wade fishing can provide some great rewards....
Redfish were on one day and off the next. We have seen a good number of them on the flats during the day. We boated three on Tuesday, but could not get them to hit later in the week. They have been heading up on the shallows as the sun warms up the water, but are very easily scared this time of year. Mark and I saw a number of them sunning on the flats.
Redfish along the mangroves at first light....
Bridge anglers were still enjoying catches of sand perch, some croakers and plenty of sheephead off the catwalks. Jetties were giving up some jacks, bluefish and Spanish mackerel. Neal Plante sent me a report of a huge 8 pound Sailcat caught by Glenn Cope of Fort Pierce on their boat. Glenn is a youngster of 80 and an enthusiastic angler, who took the battle to this beast! Congratulations Glenn on a fine catch!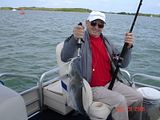 Glenn Cope with a huge 8 pound sailcat!
Tip of the Week:
A grateful thanks to the Roadrunner Fishing Club and the Port St Lucie Anglers Club! Clint Walker of the Fishing Center and myself had the privilege of speaking to both these fantastic groups this week and met some great local anglers in our area. Both are organizations, who make fishing both fun and exciting! We do live in a wonderful area of Florida with great people around us!
As always, remember, fishing is not just another hobby....it's an ADVENTURE!!
Good Fishing and Be Safe,
Capt Charlie Conner
www.fishtalescharter.com
email:
[email protected]
772-284-3852