March 9, 2007
Inshore:
Windy days prevailed most of this week on the Treasure Coast. Fish were biting most days if you could find a place to fish out of the winds. It did taper down a little by Wednesday. It was hard to find a place to fish on Saturday and Sunday as the latest front came rolling through the area.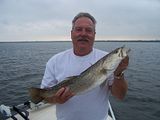 Trout fishing along the Indian River this week....
Trout fishing started out good and slowed down as the cold front lowered the water temperatures as the days went by. By Wednesday, the water had cooled off quite a bit and fishing slowed down. We managed to continue to catch trout, but most were shorts. Brian Chamberlain boated a nice fat 24" trout over the weekend. Rob Schick took home several nice trout for lunch. Justin Harviston was down south and got into some trout. Matt Cassidy and his buddies had several hours of fun catching trout and ladyfish one after another. Michael Lawrence and I were out the day the water cooled off and although we caught trout, the shorts were hitting in the cool water. Once the water warms up again, look for the trout to get active on the flats. Live shrimp, twitch baits or jerk baits have worked well for us lately.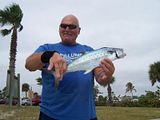 Brian Chamberlain with a couple of his catches this week...
Redfish continue to sun themselves on the flats. We scared a number while fishing the flats. We spent most of our time targeting trout. Hal and Brandon Weliver reported catching a half dozen slot size redfish south of Fort Pierce in the shallow flats. Soft baits imitating shrimp worked for them. Action should pick up as spring warms up the water.
Snook anglers fishing at night are finding on and off nights lately. Feather jigs and large shrimp are the choice baits for night anglers. Both bridges in Fort Pierce have produced snook along with the seawalls of the turning basin. Don't forget to drop a live shrimp around some of the local docks for a chance at a snook. Bob Bergen reported catching a nice 24" snook on the flats down near the Power Plant along with some trout this week.
Bridges have enjoyed catches of croakers, sheephead and Spanish mackerel. Live or dead shrimp is the bait of choice and shiny lures are being cast for mackerel also. The inlet continues to hold mackerel and bluefish, while the surf is yielding whiting and a few reports of pompano. Shrimp or sand fleas are the norm along the beaches. Looks like we might just have a nice weekend ahead of us, so plan on getting on the water soon.
Tip of the Week:
When is the last time you checked out your safety equipment on the boat? This year.....last year.....never???? Did you know that if your safety equipment includes flares, they are dated and must be current to be considered part of your equipment. Outdated flares might not work properly and won't pass a check by the Coast Guard or law enforcement. With spring nearly here, make sure all of your equipment is current and usable. It's there to provide you with the proper items to deal with an emergency situation.
As always, remember, fishing is not just another hobby....it's an ADVENTURE!!
Good Fishing and Be Safe,
Capt Charlie Conner
www.fishtalescharter.com
email:
[email protected]
772-284-3852