Discussion Starter
·
#1
·
March 15, 2007
Inshore:
Springtime weather spread throughout the Treasure Coast this week, bringing lots of sunshine and a few less windy days to make for mild fishing on the water. It sure has been a welcome change from the past month on the river. But as March is well known for....we can expect a windy weekend ahead of us and maybe bringing some much needed rain to the area.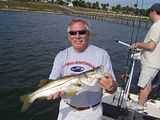 Mark Amorello with a nice 24" snook on the flats....
Trout was again our number one target this week. We had some nice days to fish both sides of the river for seatrout. Mark and Doug Amorello were down and caught a number of slot size trout over the weekend. Frank Depento and his buddy Pete were in the area and we managed a few slot sizes on a slower day this week. Our best day was Tuesday, when Bob Altieri and his buddies, Mark and Tony were out with me. They boated two dozen nice trout that day with Mirrolures and jerk baits on the flats. Fish the grass flats in two to four feet of water around the river.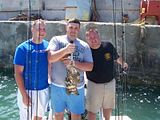 Tony, Mark and Bob ending a great day with a nice grouper caught by Mark....
Snook fishing around the inlet has been producing some slots and a few over slots on live baits or jigs. The north bridge has been one of the better areas. Don't forget to drop a live shrimp around some of the docks for another chance at a hookup with a snook. Mark Amorello and his son Doug were fishing the flats with me using soft baits, when Mark hooked up with one huge over-the-slot snook in about a foot and a half of water. It was great to watch that fish come clean out of the water a couple times before spitting the hook. He did manage a nice 24" snook to ease the pain a little!
Mark caught this nice trout fishing along the Indian River...
We found some reds on the flats, but they just weren't feeding when we were there. As this water continues to warm up, the redfish should become more active. Soft baits, gold spoons and early morning top water help get a chance at a hookup. The ones we found were shallow later in the mornings in two feet of water.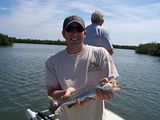 Doug Amorello with one of his trout caught on the flats....
Bridges are continuing to give up Spanish mackerel, sand perch, croakers and sheephead. Black drum have also been around the inlet and structure in the river. I did get a report of a few larger snapper being caught around some of the docks this week. Surf anglers are enjoying a good whiting bite lately, with bluefish and mackerel mixed in the catch. Mark, who was out with Bob and Tony caught five or six grouper around the turning basin this week on live shrimp.
Frank Depento with a nice spotted seatrout....
Tip of the Week:
March is traditionally one of those windy months here on the Treasure Coast. Use the winds to your advantage on the river. Use them to make drifts across trout flats. East or west winds can provide one side of the river that is fishable and easier to maneuver on the flats. North or south winds can be difficult, but we have islands that can provide protection and areas to fish. Drifting can allow you to cast downwind and fish farther ahead of the boat before the fish can detect you in the area. We will always gripe about windy days.....but use it to your advantage to help make your day more productive.
As always, remember, fishing is not just another hobby....it's an ADVENTURE!!
Good Fishing and Be Safe,
Capt Charlie Conner
www.fishtalescharter.com
email:
[email protected]
772-284-3852