Discussion Starter
·
#1
·
January 5, 2006
INSHORE:
Mild weather this week has provided great fishing conditions on most days. Hope you had a chance to get out on one of these nice warm days. Looks like going into this weekend will bring some cold night temperatures on Friday and Saturday. Better break out the ol' long johns for your early morning fishing!
Redfish was the fish to seek most of the week. Lots of them on the flats most of the day right now. Bob from the area was out with me this week and we spent a several of hours seeing one redfish after another on the flats. We managed a number of hits and boated several, including one nice, fat 27" redfish. Bob also managed to get a great hookup on the fly, only to get broke off during the fight. Each day on the water this week, I saw numerous reds out there. They have been hitting slow sinking MirrOMinnows and can't resist a nice juicy shrimp. Look for them north of the bridges in Fort Pierce on just about any of the flats. I have also had reports of redfish down near the power plant.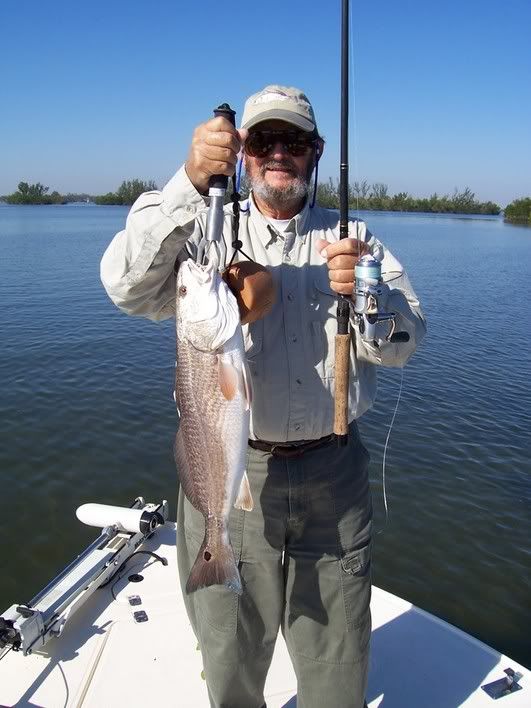 Snook and trout have been hitting top water early. Some days have been slower for them than others this week. Soft baits like the CAL lures from DOA, spoons and shrimp on popping corks will work best on the grass flats in 2-4 feet of water. There are some large trout in the river searching out a quick meal. Harbor Branch is always productive along with Queen's Cove.
Black drum and sheephead have been hitting well around the bridges this week. Lots of sheephead all over the river. We witnessed numerous small schools all around the flats. Shrimp is the best choice for fishing around the bridges and structure.
Tip of the Week:
Safety should be every ones concern. As we were fishing on the flats recently, we witnessed a boat powering though the flats, obviously unfamiliar with the area. As it ran aground, I could only think how foolish some individuals are about boating safety. Luckily, these two guys weren't hurt and maybe they didn't do too much damage to their boat. Let's start off right this year and practice safe boating for 2006!
Have a safe weekend. Remember, fishing is not just another hobby.....it's an ADVENTURE!
Good fishing and be safe,
Captain Charlie Conner
email me at:
[email protected]
visit my web site at: www.fishtalescharter.com
772-344-3187 or 772-284-3852 (cell)