Discussion Starter
·
#1
·
January 25, 2006
INSHORE:
What a change in seasons so far this winter. It's been a very mild winter for now and with luck it will continue for a while. Our weekly cold fronts haven't bought the bitter winter cold temperatures into the Treasure Coast like past years. Keep your fingers crossed for more of this great weather!
The trout fishing has remained steady, if you can keep the ladyfish from hitting your baits first. The grass flats have been loaded with ladyfish along with the trout. They are so aggressive that they will sure outweigh your trout catches for now. Keep on fishing the flats and you will get some trout action. Live shrimp on popping corks, soft baits and top water will keep your rod bending. Queen's Cove, Harbor Branch and the Moorings have been productive north of the bridges in Fort Pierce and down by the power plant heading to the south.
Redfish still have their residence on the flats. They continue throughout the day sunning themselves in the shallow waters. With the water much cleaner, they will run at any noise or movement so keep a stealthy approach out there. Ed, from Dallas, boated two nice slot sized redfish to 26" from along the flats. Live shrimp, cut baits and gold spoons have been the most productive of choices. Most of the flats to the north and down by the power plant have held redfish this week.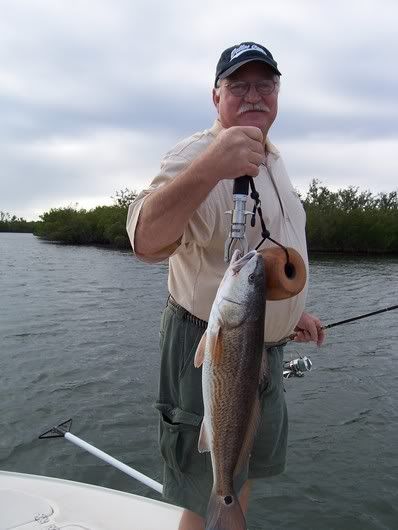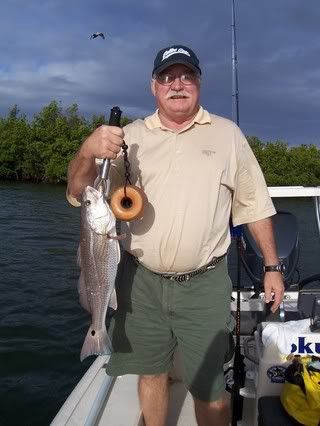 Snook action was scattered around the river. Most of our action was along the mangroves in the deeper cuts. We caught snook to 24" this week using top water and sinking twitch baits. Natural and chartreuse colors worked best this week. The north bridge and Taylor Creek has continued to produce reports of snook catches. February 1st is the opening of snook season so get your rods ready!! I also had a report of tarpon landed by the Taylor Creek spillway this week.
Pompano have been reported south of here from the power plant to Jensen Beach. Keep a jig rigged on a rod to tip with shrimp in case you happen upon a school of pomps while out there. Ladyfish and jacks........as always.......everywhere! The structure and bridges have been holding sheephead, croakers and black drum. The sand perch fishing slowed some this week as the latest cold front came through, but should pick up again by the weekend.
Call ahead for fresh ballyhoo at the Fishing Center of St Lucie in Fort Pierce. As available, you can call and reserve your supply. Call by Tuesday to order for the weekend. 1-772-465-7637 and talk to Clint or Kelly at the Fishing Center of St Lucie.
Tip of the Week:
Need to charge that trolling motor battery or top off that starting battery in the boat? I finally exhausted the life out of my old charger and have they ever changed over the past few years. Lots of makes and models out there, but I bought a Black and Decker model that is electronic and takes all the guesswork out of batteries. Winter is the hardest time for batteries and it's never fun to find out you have problems at the ramp, no matter what time of year. The newer models of chargers tell you just about everything you need to know about your battery, including how many slices of pepperoni are on that pizza you just ordered! Check one out soon.
Have a safe weekend. Remember, fishing is not just another hobby.....it's an ADVENTURE!
Good fishing and be safe,
Captain Charlie Conner
www.fishtalescharter.com
To have my fishing report sent to you. Email me at:
[email protected]
772-344-3187 or 772-284-3852 (cell)