Discussion Starter
·
#1
·
February 15, 2006
INSHORE:
Ok....so winter came to pay us a visit over the weekend. I guess the hardest thing was to dig through that closet to find something warm to wear. But winter in Florida changes daily or hourly and the warm weather has again filtered its way to the Treasure Coast and everyone is anxious to get out on the water again. The water temps took a dip this weekend, but with the sun shining again look for the water to warm back up for the fish as each day passes.
Snook fishing has remained good in spite of the colder weather lately. The turning basin, bridges and docks around the inlet area has continued to produce all sizes of snook. Live shrimp, pinfish and red tail hawk jigs has been the bait of choice by anglers in search of that keeper snook. The jetty has also been yielding its share of linesiders to anglers that braved some of those cold mornings. Mark from Mass. was fishing with me this week and caught two black drum and a snook on his first four casts around the bridges. He did miss one big snook during that trip.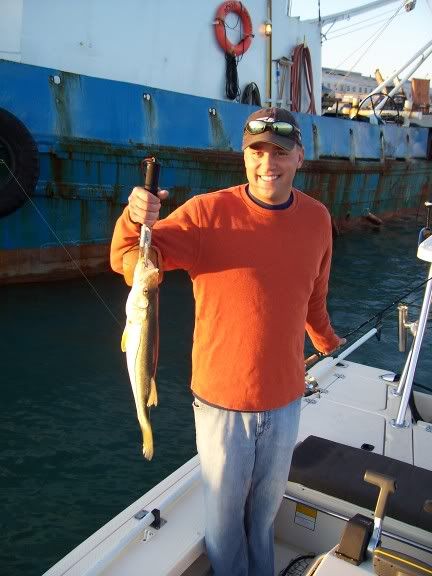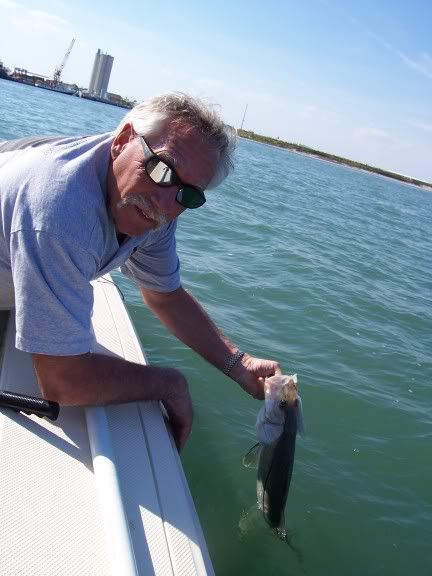 Trout fishing was a bit off the past several days, but with the warmer weather around us, look for them to hit in the deeper flats of 2-5 feet of water on soft bait, live shrimp and jigs. Down around the power plant has been a great spot of late for many different fish. Harbor Branch and Queens Cove have been active the past week.
Redfish have been on the flats most of the day. Keep a stealthy approach as they sun themselves in the warming waters. We have been finding them in 1-2 feet of water and they will run at their shadow with the clear water on the flats. Live bait along with gold spoons, small jigs and DOA shrimp will be your best opportunity at catching a red on the flats. Look for them down across from the power plant on the west shore and most o the east shore north of the Fort Pierce bridges.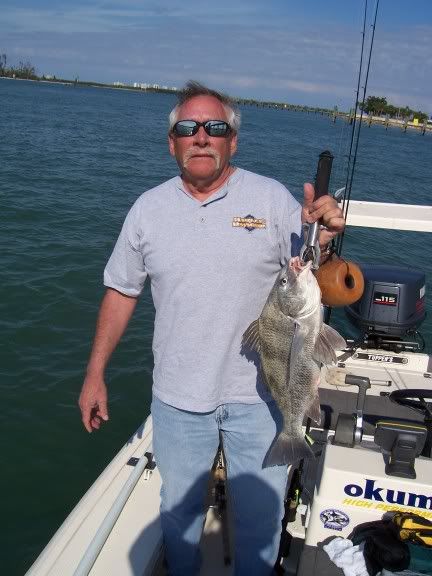 Lots of jacks and ladyfish are out there to fill your day on the water. It's hard some days to catch a trout with the ladyfish trying to beat them to your bait on the flats. Pompano have been south of the bridges from the power plant south towards Stuart. Shrimp tipped jigs or sand fleas are the best choices. Spanish mackerel have been south of the bridges also. Try trolling along the channels with clark spoons. Usually anything flashy will get their attention. The surf has been coughing up whiting and pompano for the beach anglers using shrimp. The bridge fishing has been very active for sand perch, black drum, croakers and sheephead. Most anglers are using live or frozen shrimp.
Tip of the Week:
I was just sitting here in the middle of writing my fishing report and thinking to myself about the first time my dad took me on the river behind our home in WV, many years ago. Geez......that was well over fifty years ago. I guess time passes and lots of things change, but fishing has always been a part of my life. I hope that our children and grandchildren have the same opportunity as we have had in our lives. Take a moment and share a fishing experience with your child or grandchild. My little granddaughter, Chloe, is only six month old, but I have already outfitted her with all her fishing gear in anticipation of that first fishing trip with Grandpa. There is no greater satisfaction, than watching a child catch that first fish. Take a kid fishing......you'll be glad you did!
Have a safe weekend. Remember, fishing is not just another hobby.....it's an ADVENTURE!
Good fishing and be safe,
Captain Charlie Conner
www.fishtalescharter.com
To have my fishing report sent to you. Email me at:
[email protected]
772-344-3187 or 772-284-3852 (cell)