Discussion Starter
·
#1
·
March 3, 2006
INSHORE:
Once again, mother nature bought us another front to put the wind back in our sails. The weekend was blown out on most of the river, but later in the week, we will be back in springtime weather patterns. The temperatures are still mild and the water has remained warmer than normal for this time of year. Spring is not far off and it looks like great fishing ahead.
Most of the week, it was a challenge to get out and find fishing areas that weren't getting the brunt of the winds. Tony and Bill were out with me and Tony did boat a nice fat 24" redfish for dinner that night. The reds were up on the flats, but were hard to fish with the wind whistling across them. We finished off that day with a fiesta of ladyfish on the flat edges that were just looking for a fight.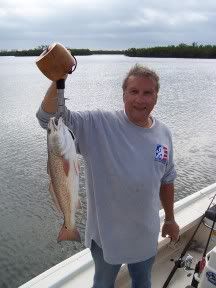 Snook fishing has been off and on some of the days, but some keepers are being caught around the bridges and inlet areas. The brave, who fished in spite of the winds, did manage some nice catches over the weekend. Large shrimp or pinfish have been the best choices for snook fishing.
Saturday, Len and Debbie accompanied me on the St Lucie River for some fishing and sight-seeing in some of the areas out of the strong winds. Debbie did manage to catch some of the jack crevalle that were wreaking havoc around the river. It wasn't the best day to fish, but we had a very nice time on the scenic river that flows through our area.
These fronts haven't changed the water temperatures much, but as the wind subsides during the week, the fishing will continue to improve on the flats. Hope you have the chance to get out fishing as the weather improves.
Have a safe weekend. Remember, fishing is not just another hobby.....it's an ADVENTURE!
Good fishing and be safe,
Captain Charlie Conner
http://www.fishtalescharter.com
To have my fishing report sent to you. Email me at:
[email protected]
Call me at: 772-284-3852
(NOTE: I will be out of town most of this week and part of next week and will probably not get a chance to update a fishing report next week. My dad is very ill and I am flying up to be with him. He is the one responsible for my love of fishing all these many years. I thank him for taking the time, long ago, to introduce me to fishing as a young boy. He has inspired some of the stories that I write and hopefully he will recover and I can get a chance to take him fishing soon. Thanks to everyone in advance for your thoughts and prayers!)