Discussion Starter
·
#1
·
April 6, 2006
INSHORE:
It looked like summer a most of the week. Light winds in the mornings to summer-like breezes in the afternoons brought a nice change to the Treasure Coast. We found that we have been able to fish a lot of areas that have been too windy to fish the past several weeks. I sure love the spring weather!
We found redfish tailing just about every day that we were up on the flats. Most were in small schools of 6-8 fish in the shallows up north of the Fort Pierce bridges. Tim Freeman has been down from Virginia and boated a nice 25" redfish using a top water in the early morning. We also had several hits and misses from them. Look down south on the western docks for some reds to hang out.
Tim holding his 25" redfish caught on top water....
I have had a number of good reports of snook around the bridges and inlet this week. Tim also boated a nice 24" snook from the flats on a top water. Mike emailed me and has caught several 24" snook up around Harbor Branch on top water while wading. We caught a nice 34" snook in the early morning on top water over the weekend. Lots of bait fish are entering the river and the fish will hit the flats in first light, so get out early!
Capt Charlie with an early morning 34" snook....
Trout have been reported in numerous areas around the river from the power plant up to Round Island. Two to four feet of water has been the best depth to look for trout. Live shrimp, soft baits and top water. Mike also reported a nice gator trout of 27" and 7lbs that he caught on a Poppa Dog.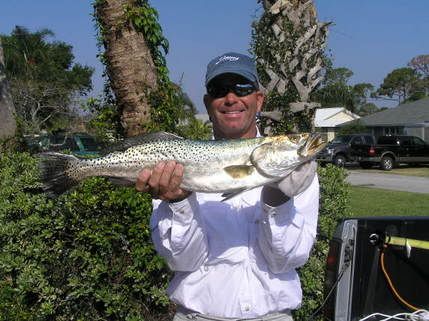 Mike emailed me with this picture of his trout he got while wading....
We have caught a real smorgasbord of fish this week. Everything from snapper, flounder and lookdowns to the ever present ladyfish and jacks. The big jacks have followed the bait into the river and you can find some real rod benders schooling throughout the river. It's been a nice week to be on the water!
The jacks are back!
Tip of the Week:
With spring here and the weather cooperating more and more, you can find the boat ramps on weekends packed with boaters heading out for a day on the water. Courtesy and patience is the order of the day on weekends all around the Treasure Coast. Don't tie up the ramps when putting in or pulling out your boat. We all want to get out there and have a great day enjoying the water. Let's not ruin the weekend at the ramp. Make it fun for everyone!
Have a safe weekend. Remember, fishing is not just another hobby.....it's an ADVENTURE!
Good fishing and be safe,
Captain Charlie Conner
www.fishtalescharter.com
To have my fishing report sent to you. Email me at:
[email protected]
Call me at: 772-284-3852