Discussion Starter
·
#1
·
April 12, 2006
INSHORE:
Thar' she blows........nope, not a whale sighting on the high seas. Just the latest front blowing through the Treasure Coast most of this past week. It's been strong winds daily to churn up the ocean and river and keep most anglers on shore. We should be downsized by the weekend and get back to some spring weather by then.
The trout bite has really picked up lately. When we could get out and fish, there were trout all along the flats north of the Fort Pierce bridges. The Moorings produced a good number of slot sized trout and some nice over 20" specimens. Paul Benton nailed a nice, fat five pounder on that MirrOMinnow that I love to talk about. Most were hitting in two to three feet of water on the flats.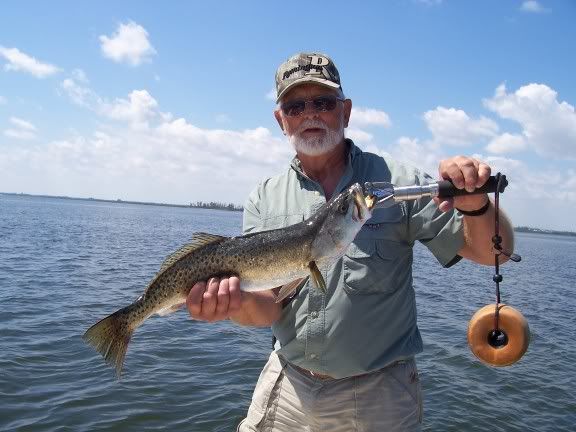 Paul Benton holding his 25" trout caught on the flats....
Snook fishing has been for the brave this week. Those who dared stand up to the winds had some success along the jetties and bridges on live shrimp or jigs. We spotted a number of big boys hanging around the docks along the river. Once the water calms down, get out that favorite top water and hit the flats just around first light for a chance at a linesider on light tackle.
Redfish have been cruising the flats and should be fishable by the weekend. It might take a few days for the water to clear up, but the reds will be up there looking for a cheap snack. Top water in early morning, live shrimp, gold spoons and soft baits are choice baits on the flats.
Bridges will continue to provide lots of fishing for sheephead, black drum and snapper. Live or dead shrimp is the bait of choice from the catwalks. Bait fish continues to filter into the river and those chasing the bait will follow it also. Look for early morning fishing to improve each week.
One of a number of 20" plus trout we caught last week....
Charlie McClure reported that he was catching dolphin up to 20# while trolling in 140-240 feet out of Fort Pierce Inlet. But then the winds came and changed plans for most offshore trips.
Tip of the Week:
Everyone has their favorite lures they depend on to produce day after day. We all try the newest things on the market, but end up back to the ol' trusty lures that never let us down.
If you had to leave the dock with only one lure.....which one would it be?? I am curious which is your favorite. Reply or send me an email on your choice. Mine would certainly be the one I talk about the most in my reports....the shallow running MirrOMinnow. I am adding a photo of a trusty ol' favorite that I was forced to retire this week. After more fish than I can count, it just gave out after catching a vast array of fish all along the Indian River. Let me know your favorite!
My MirrOMinnow 19mr after lots of fishing is beyond repair....
Have a safe weekend. Remember, fishing is not just another hobby.....it's an ADVENTURE!
Good fishing and be safe,
Captain Charlie Conner
www.fishtalescharter.com
To have my fishing report sent to you. Email me at:
[email protected]
Call me at: 772-284-3852