Discussion Starter
·
#1
·
April 19, 2006
INSHORE:
Spring sure is a wonderful time here in the Treasure Coast. Yep.....the winds died off this week and the sun has been shining down on us with warm temperatures and mild conditions. I always look forward to springtime and the great sunrises out on the Indian River each morning.
Early morning fishing is continuing to improve each day. We have been using top water in the early mornings on the flats and switching to shallow runners, soft baits and spoons as the sun rises. There is nothing so exciting as watching the water explode underneath a top water lure! Get out your favorite and get in on some of the action.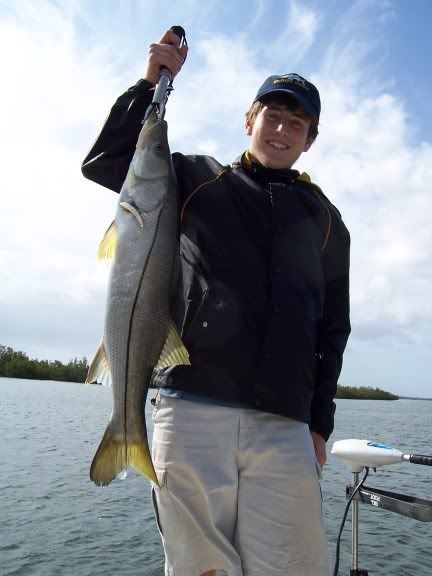 Craig holding his 35" snook caught on the Indian River flats....
Snook fishing has remained steady over the week. Inlet and bridge anglers are continuing to catch all ranges of snook sizes. The flats are getting their share of hungry linesiders looking for a early morning snack. Craig Cilley celebrated his birthday recently on the boat by catching a 35" snook on a shallow running MirrOLure in only a foot of water. We managed to boat a number of shorts along with a few slot sizes this past week. Look for some around the docks and mangroves throughout the river as the water continues to warm.
Trout has been productive from south around the power plant up to the Moorings on live shrimp and jerk baits. Scott caught a 21" trout on the flats north of the bridges in Fort Pierce. As the winds die off, both sides of the river will be fishable in all the favorite areas. Look for them to hit top water at first light.
Scott with a nice 21" trout caught on the Indian River flats....
Redfish were up on the flats scrounging around in less than two feet of water. Jackie Cilley was using a chartreuse top water when it was blasted by a 25" redfish in only a foot of water. It was her first redfish and you can tell by her smile how proud she was of it. Top water, spoons, soft baits and shallow runners should get their attention. They should become more visible as the winds settle down.
Jackie with her 25" redfish caught on top water....
Lots of species are being caught around structure and bridges along the river. Black drum, sheephead, croakers and snapper have been table fare for those anglers. Live or dead shrimp have been choice baits.
It's been a great week on the water and I hope you had a chance to get out. The channel between the Fort Pierce bridges has been opened up, so please be careful when boating through the inlet. Courtesy goes a long way to make for a great fishing experience!!
Tip of the Week:
My favorite subject.....take a kid fishing. I love having children on the boat. They love to fish and are so eager to learn. When Craig and Jackie were on the boat this past week. You could read their faces by their smiles as they caught and reeled in their fish. I see a lot of photos on the forums of parents taking their children out for a day of fishing. It's wonderful to see so many kids getting a chance to fish with mom or dad. They will always remember those trips like I recall of my dad taking me out on the river. If you haven't done it lately.....get out the gear and take them soon!
Have a safe weekend. Remember, fishing is not just another hobby.....it's an ADVENTURE!
Good fishing and be safe,
Captain Charlie Conner
www.fishtalescharter.com