Discussion Starter
·
#1
·
April 26, 2006
INSHORE:
Another gorgeous week of spring along the Treasure Coast has provided us with some great fishing weather. Mild morning breezes have given us great top water fishing at the first hint of the sun breaking across the eastern skyline. Lots of bait all over the river have brought the fish up on the flats to feed and we have had some fun this week catching some of them.
Shawn celebrated his birthday with a 24" red caught among some tailing redfish...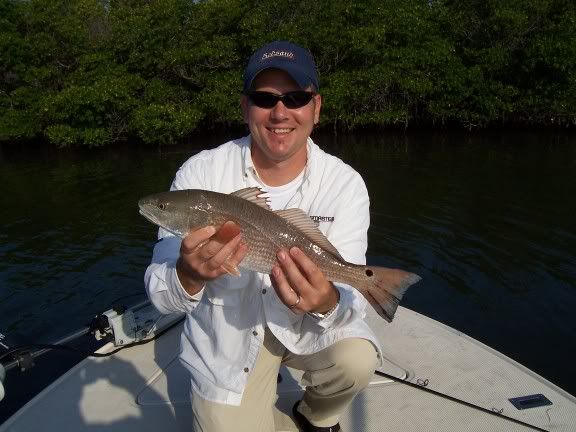 Another of Shawn's redfish caught along the mangroves....
Redfish have been the best catch for us this week. Early action on top water to mangrove fishing later in the mornings have bent our rods a number of times. Shawn and his wife were on the flats with me over the weekend and he boated an inshore slam along with several other redfish, too. Shawn got to sight cast to a small school of tailing reds to get his 24" red on a Berkley Gulp. Matthew and Andy went out with me another day and boated four nice redfish. Matthew caught a nice 26" red on top water, while Andy caught a close 25" on a Berkley Gulp. Tuesday we also boated four reds on various lures. Look for them in shallow water and you might also find some tailing in the early mornings. We fished the flats north of the Fort Pierce bridges this week.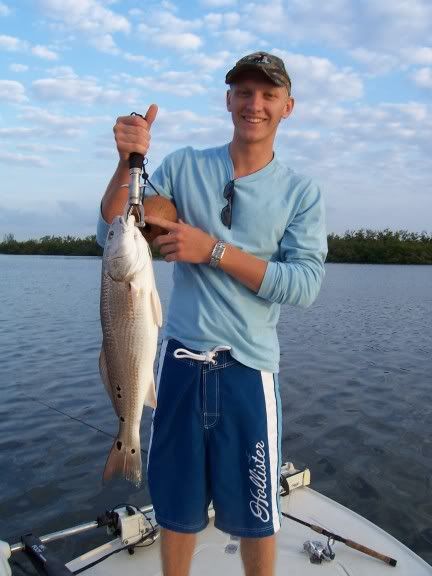 Matthew celebrating his birthday with a 26' redfish caught on a top water lure....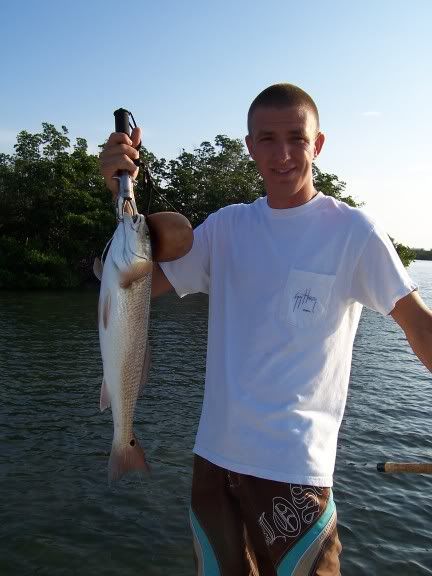 Andy caught this 25" redfish on a Berkley Gulp on the flats....
Trout have been hitting soft baits, but not as well as the reds have for us. Bob caught a nice fat 21" trout to top the catch of this week. Most we have caught have been in the slot range. Root beer, copper and darker colors have been our best soft bait producers. We have caught trout in four feet or less of water this week.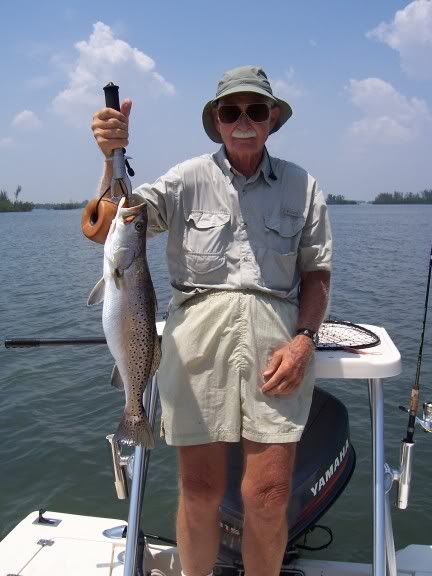 Bob caught this fat and sassy 21" trout on the Fort Pierce flats...
Snook fishing is best right now at night or very early morning. The deeper mangroves will prove well during the day on soft baits or live bait. Work your baits slowly along the mangroves for best results. We caught reds, snook and flounder this week along them. Shawn boated a 24" snook from under the mangroves. South of Fort Pierce, look along the deeper mangroves. Snook will be patrolling the flats at first light so get out that top water lure!!
Jacks and ladyfish are continually harassing the bait. Schools of jacks are all over the river and wreaking havoc just about everywhere. Bridges will continue to provide catches of sheephead, drum and croakers on live or dead shrimp. There is lots of action all over the river, so get out and have some fun!
Tip of the Week:
It's getting hotter and hotter as the days go on and that means the dreaded springtime sunburn!! Nothing worse than ending the day looking like an overripe tomato.... Put some on before you leave the house and several times during the day on the water. Don't take the chance without it and ruin the week by walking around like a scalded horned-toad...... Slap on some thirty weight and have some fun out there!
Have a safe weekend. Remember, fishing is not just another hobby.....it's an ADVENTURE!
Good fishing and be safe,
Captain Charlie Conner
www.fishtalescharter.com