Discussion Starter
·
#1
·
May 18, 2006
INSHORE:
Finally, some rain to give the landscape a drink of fresh water! I almost forgot what it was like to see the ground wet and the grass growing again. Now I have to add mowing grass into the weekly plans. There was a few days that made it difficult to get on the water, but overall it has been a nice week for fishing.
Chris with a 26" redfish caught along the flats...
Once again, the redfish bite was great on the flats. Top water in the early mornings and jerk baits, spoons and Mirrolures provided us with catches during the day. Chris was over from Okeechobee and caught three in a short twenty minutes that averaged 25-26 inches. Hal also caught himself a nice 26" redfish. Reports on them range on both sides of the river from the power plant up to Queen's Cove. We have been having luck on chartreuse or mullet colorings for success.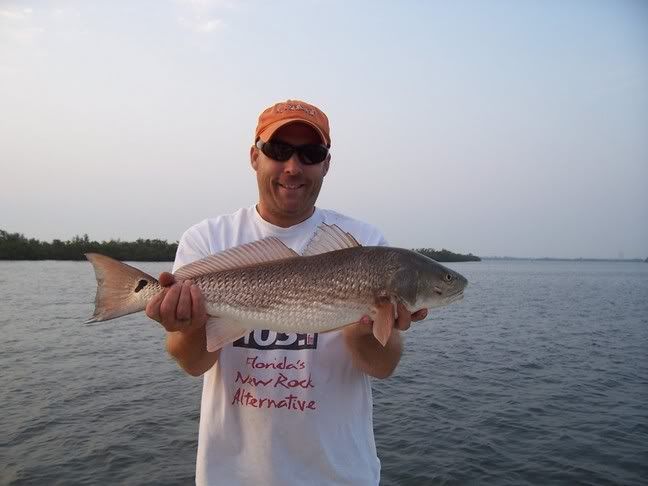 Hal with an Fort Pierce redfish....
A lot of good snook reports around the river. Early mornings on the flats with top water can provide some shorts and slot size snook. Chris caught a nice 24" and missed a good slot size at the boat on top water. Around the bridges and inlet use live bait or jigs for a chance at a keeper or larger one. Remember that snook season closes June 1st so get your keeper soon!
Chris with a nice snook off the flats...
The trout bite has been good on most days. Our largest trout this week topped 26". Top water, soft baits and live shrimp will usually get one to bite. Reports all around the river have been good on most days this week. The usual haunts are Harbor Branch, Bear Point, Queen's Cove and Round Island.
A great day of fishing.....
Sand perch, drum, sheephead and flounder have been around the bridges. Live or dead shrimp are the best choices of bait in these areas. Jacks are still striking fear into the mullet all over the river. Snook and tarpon have been chasing bait around the inlet. There is lots of bait in the river and more working their way into it. It's a great time of year to be fishing!
If you are up in Melbourne this weekend at the Coastal Angler Magazine Fishing Expo.....stop by the Teen Angler booth and say howdy! I will be helping there on Saturday from 10am to 3pm. Check out the Teen Anglers and see if you can get involved in such a great organization in your area.
Tip of the Week:
Enjoy life and get out fishing! Nothing more relaxing than watching the sun peek over the horizon and the fish slapping the water in anticipation of a new day. You can forget about time, troubles and stress and enjoy a wonderful day of fishing. Take some time and just do it!
As always, have a safe weekend and remember, fishing is not just another hobby.....it's an ADVENTURE!
Good fishing and be safe,
Captain Charlie Conner
www.fishtalescharter.com
To have my fishing report sent to you. Email me at:
[email protected]
Call me at: 772-284-3852