June 1, 2006
INSHORE:
Looking out across the sky at the setting sun this evening is a reminder of how I love living here in Florida and along the Treasure Coast. You can watch the sun rise early in the mornings over the water, knowing there will be an equally spectacular sunset to enjoy the coming evening. The weather has been great for fishing all along the Indian River. Hope you had a great Memorial Day weekend!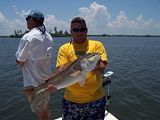 Jim holding his 28" redfish caught on the flats....
Snook season is now closed on the east coast of Florida. You can still have the excitement of battling that linesider, but must remember to practice catch and release until September 1st rolls around. Snook are still heading up on the flats in early mornings and can be enticed into hitting a top water lure. Look around the inlet, docks and mangroves during the day or at night for some snook action.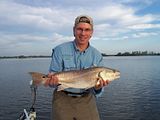 Andy caught this nice 28" redfish on the fly....
We have continued having some good days targeting the redfish action. We had a couple of days that they were tight jawed, but most days this week has produced some great redfish fights. Andy landed and released a nice 28" redfish on his flyrod. Mike had a 24" redfish hit a soft bait and Jim boated a 28" redfish this week. Look for them on the shallow flats in one to two feet of water following the tides.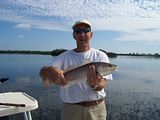 Mike won this battle with a 24" redfish....
The trout bite was off and on again this week. Top water early and live shrimp on popping corks are your best choices of baits. Look for them to hang out in two to four feet of water along the flats. Try along Queen's Cove, Round Island and the Moorings for some trout actions this week.
Another redfish along side the boat....
Jacks and ladyfish are still around the river looking for trouble. We have seen a few 5' bull sharks working the flats each day. There are still some bluefish hanging around. We were sight casting to some reds and hooked up on a bluefish instead. The bridges will continue to yield sheephead, drum and flounder on live or dead shrimp. Live shrimp has been hard to come by lately though. The beaches have been holding whiting and bluefish for the surf anglers.
Tip of the Week:
I was waiting at the ramp over the Memorial Day weekend on my clients and watching the boating habits of people on the Indian River. Most boaters practice safe boating habits, while there are always a few who don't bother or care about the rules of the road. A little common sense and courtesy can go a long way, especially during a busy holiday weekend. To increase your knowledge of boating and navigation, check out the Coast Guard Auxiliary in your area for class schedules.
As always, have a safe weekend and remember, fishing is not just another hobby.....it's an ADVENTURE!
Good fishing and be safe,
Capt. Charlie Conner
www.fishtalescharter.com
To have my fishing report sent to you. Email me at:
[email protected]
Call me at: 772-284-3852