June 8, 2006
INSHORE:
It has been a fantastic week of calm water and warm temperatures. I had some great people fishing with me this week and we thoroughly enjoyed the mornings out there on the Indian River as the sun was rising off in the east. It's hot out there now, so go prepared and enjoy the weather.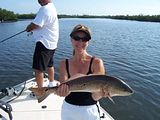 Shawn holding her 26" redfish caught on the flats....
Redfish have been scattered on the flats this week. We did manage to hit on a few schools though. Look for water on the flats that runs 2-3 feet for reds. They will hang out there during the day where they can scoot up on the shallows to feed and have a place of refuge to dive back into. Mark was down from Mass. this week and caught a 27" redfish out on the flats. Bob boated a 24" red on a mirrolure. Shawn caught a nice 26" redfish for dinner. Gold spoons, jigs and twitch baits are working on the flats right now.
Mark with a 27" redfish caught along the flats in Fort Pierce....
There are still some snook patrolling the flats in early mornings. Top water, spoons and twitch baits are working early. Bob battled a nice 28" snook from under the mangroves on a gold spoon. The bridges are still producing snook bites as the tide is slowing down. Mark caught a 24" and got broken off by a larger one. Remember, snook season is closed, so a picture and release them carefully.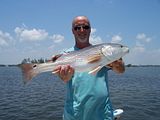 Bob with a 24" redfish caught on a mirrolure...
Trout will hit some top water in early mornings and live pinfish or pigfish during the day. The bite has slowed some this week. Lots of jacks and ladyfish are out there looking for an easy meal though. I talked to Chris from Okeechobee and he told me they had caught one and a half redfish this week.....a shark had devoured half of one as they were reeling it in on the flats.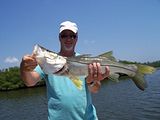 Bob boated this nice 28" snook from under the mangroves...
The bridges are producing snapper, snook, sheephead and grouper. Some flounder are still being caught around the back side of the jetties and the bridges. Whiting are in the surf and hitting live or dead shrimp.
Tip of the Week:
It's a good time to take a few minutes and check the lighting on your trailers. The constant in and out at the ramp in saltwater will gradually invade your wiring and end up with a light not working. It's a safety hazard on the road and you can be stopped for faulty lighting. Be safe and check it as part of hooking up your trailer and repair them when you do have a problem. Safety ,both on and off the water, is important to all of us!
As always, have a safe weekend and remember, fishing is not just another hobby.....it's an ADVENTURE!
Good fishing and be safe,
Capt. Charlie Conner
www.fishtalescharter.com
To have my fishing report sent to you. Email me at:
[email protected]
Call me at: 772-284-3852