Discussion Starter
·
#1
·
June 29, 2006
INSHORE:
Let's see...summer showers bring summer flowers.....and skeeters....and heat...and more heat....and great fishing!! We are into the afternoon thunderstorm season which brings great opportunities for early morning or late evening fishing. Light winds bring on top water action at first light on the Treasure Coast. Shake the dust off that favorite lure and get out there soon!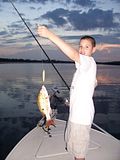 Early morning action on the Treasure Coast...
Flat conditions are out there for the early morning angler. Snook, trout, redfish and a host of other predators are on the flats looking for an easy meal. I had Shane Murphy out with me this week. He is down from New Jersey to visit and we had a chance to get out to watch the sun peek across the eastern sky this week. Top water and slow sinking lures gave us some great action out on the Indian River.
Shane holding one of two redfish caught on the day....
There are still some nice snook around the river. The bridges and inlet are still holding snook. Live bait or jigs will work best for you in those areas. Up on the flats, top water or sinking baits will get you some nice hits. Don't forget to try around the mangroves during the day also. Shane boated a nice 24" snook on a trusty MirrOlure. Catch and release!
Shane with a nice snook he caught on the flats....
Redfish action is still hot on the flats. Spoons, soft baits or top water should get you an opportunity to boat a slot sized red. Gary Walley sent me a great picture this week of a 26" red he caught up at Round Island in his kayak. Shane boated two this week of 26 and 27 inches. I love fishing for redfish out there on the flats!
Another redfish to top off the day....
Trout are an early morning bite if you want to use top water. Live bait is the best choice after that. The power plant flats, Bear Point and Harbor Branch should continue to hold their share of trout.
Lots of other fish are all over the river. We thought jacks and ladyfish were having a rehearsal dinner at the sushi bar.... They are everywhere and hungry! Snapper are showing up around the river in decent numbers. Try around the bridges and channel structure for some good snapper action.
Ladyfish can add to the fun of fishing....
Tip of the Week:
Don't forget that the new FWC rule change on fish measurement takes effect on July 1st. Go to myfwc.com for more information. Make sure you know and follow the new measuring laws....it could be a very costly mistake!!
Have a safe Fourth of July weekend. Practice courtesy, patience and safety both on the water and the road. Have fun and good fishing!
As always, have a safe weekend and remember, fishing is not just another hobby.....it's an ADVENTURE!
Good fishing and be safe,
Captain Charlie Conner
www.fishtalescharter.com
To have my fishing report sent to you. Email me at:
[email protected]