Discussion Starter
·
#1
·
July 13, 2006
INSHORE:
Great weather earlier in the week provided some great fishing on the Indian River. Calm winds and water made early mornings a great time for top water lures. Another front has moved across the area today and it will take a couple days to get back to normal again. Look for some nice weather this weekend, so hope you have a trip planned out there on the Treasure Coast.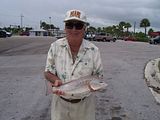 George Perez with a 22" slot sized redfish for dinner...
Snook has been the topic of the week so far. Early in the week, snook were hitting around the inlets and up on the flats. Top water, soft baits and DOA shrimp were getting some decent snook hitting in the shallows. Just at sunrise along the mangroves gave us some nice linesiders up to 28 inches. With all the rain, look for the spillways, bridges and seawalls to be active with snook. Any areas where the mangroves run on the deeper side will be the place to search them out.
Snook along the mangroves in early morning...
Redfish were a little more on the jittery side this week. We did boat several, but not like the weeks past. I had the pleasure of fishing with George Perez this week and we boated one out of three hookups for a nice 22" redfish for dinner. Spoons, soft baits and top water will give you the best chance at hooking up with a redfish. Round Island and Queen's Cove have been holding some lately.
Redfish were active on the flats this week....
Trout were active earlier this week on top water and live baits. Once this front has passed through look for them in 2-5 feet of water in early mornings. I have seen some nice sized ones on the flats while looking for reds so they are out there! Again, try Bear Point and the power plant area to the south and Queen's Cove and Harbor Branch to the north of Fort Pierce.
There are still generous helpings of ladyfish and jacks around the river to keep you busy. Some snapper along the channel, while the surf anglers are looking for bluefish and whiting. This weekend should provide us with some nice fishing weather.
Tip of the Week:
Got rain gear??? With all the afternoon showers this time of year, it's a good time to check out your equipment in the boat. Rain gear or ponchos are good things to keep handy in the event of a quick shower sneaking up on you. Have a place to keep your phone, camera and wallet dry and out of the weather.
As always, have a safe weekend and remember, fishing is not just another hobby.....it's an ADVENTURE!
Good fishing and be safe,
Capt. Charlie Conner
www.fishtalescharter.com
To have my fishing report sent to you. Email me at:
[email protected]
Call me at: 772-284-3852