Discussion Starter
·
#1
·
July 20, 2006
INSHORE:
Hot!......Hot!......Hot! That's the story lately. Summertime weather makes morning or evening fishing so much more enticing! It has been a good week though. A few tough days fishing plus some good days to keep you smiling. Looks like this weather will continue, so plan on hot afternoons with chances of thunderstorms most days.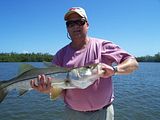 Steve Reiter holding his 31" snook caught on the flats...
Plan on getting out early to have your best chance on the river. Most of our success this week came early in the day. Snook are still hanging around the inlet and bridges. Fish top water early for a good chance at a morning snook on the flats. This week, Steve Reiter battled a sweet 31" snook on the flats in less than two feet of water. Also try around the mangroves as the day heats up. Nighttime should be active in the inlet, bridges and spillways around the river. We have been having luck with soft baits and jigs out there for snook.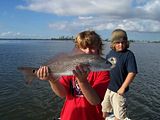 Kyle and Josh Lukat holding dad's redfish caught along the flats....
Redfish were on the flats most of the week. You had to search for them, but they were hanging out during the mornings. Steve boated two out of four hookups on redfish, while Tom Lukat boated a nice slot sized in the early part of the day. Top water is getting its share of hits along with soft baits and spoons. From Round Island south towards the power plant will be holding some redfish this time of year.
Steve with one of his two redfish caught in shallow water...
The trout bite was off this week for us. Too many jacks, cats and ladyfish are out there smashing everything on the water. Your best choices will be top water or live baits during the day. Look in three to five feet of water on the grass flats along the river.
I had some reports of snapper, margates and sheephead around the inlet and bridges from some anglers using live shrimp. We had a couple of five foot bull sharks swim by the boat on the flats this week. Look for the tarpon to be around the Moorings channels and the cuts around the power plant. Not much reports of hookups this week.
Tip of the Week:
Make sure you check your tires and hubs each time you hook up to go fishing. It's important to have good tires at the proper pressures for your safety. Grease your hubs often to keep saltwater from seeping into the bearings. A little maintenance can help reduce the chances of a costly repair down the road. Take a minute and check that trailer!
As always, have a safe weekend and remember, fishing is not just another hobby.....it's an ADVENTURE!
Good fishing and be safe,
Capt. Charlie Conner
www.fishtalescharter.com
To have my fishing report sent to you. Email me at:
[email protected]
Call me at: 772-284-3852