Discussion Starter
·
#1
·
Got to Breezy Point this morning at 7:15 am and found a long line of boats waiting to launch.Had to be 8-9 ahead of me and by the time I launched another 12-13 behind me.Looked like springtime.Fellow Tfer Tung and his brother Hung met me at the ramp and we headed SE towards #78- hoping it would not be crowded.Saw alot of boats there so we continued south.Found small Terns working the water and tried a few drops with jigs but no takers.Nothing on the meter but bait so we ran another mile and set out the spread on the western edge in 55 feet.Got all 19 rods out by 9:00 and it surprised me we did not get a hit setting the lures.Swung east and went out into the channel.In 74' a single white 80' off the board got hit and Hung reeled in a fat 37 incher.He is on the left.
We had another fish hit but it missed the hook.About 10:00 another white single got hit and Tung reeled that one in.We stayed about 2 miles north of all the boats at the CP marker and about 3 miles south of the crowd at #78.Just went east/west all by ourselves.At 10:45 a single chart got hit and Tung had his hands full.The fish really put on a show but was soon in the net.She was 39 inchers but carried her weight to the tail.Hand scale showed 27 lbs.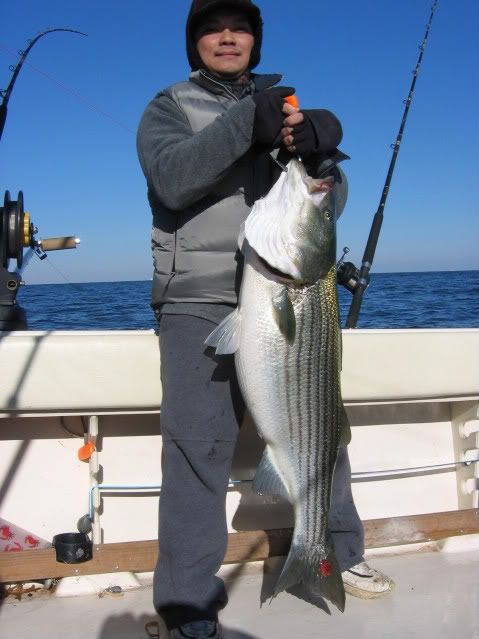 This made our over 28'' limit so we decided to play C/R rather then rerig for smaller Rock.Saw a few Gannets diving and had some bait on the meter.Saw this guy running for the hot bite off PLO.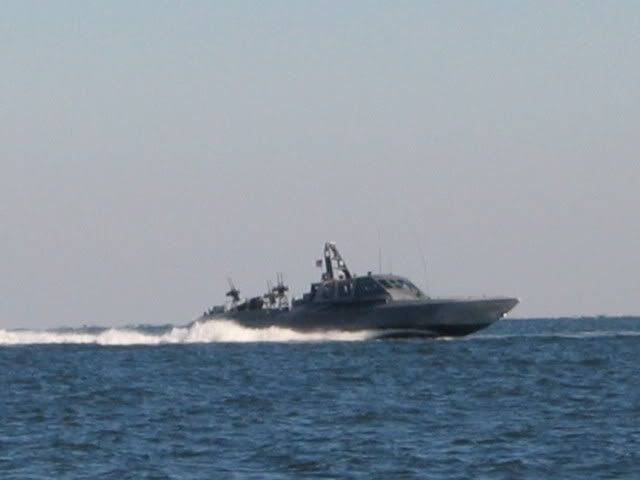 I want one.Heard a TFer warn of a south bound tug towing a " mile long" barge.Once it went by- we saw it was a dredger with a very long tow.Not a mile but damn close.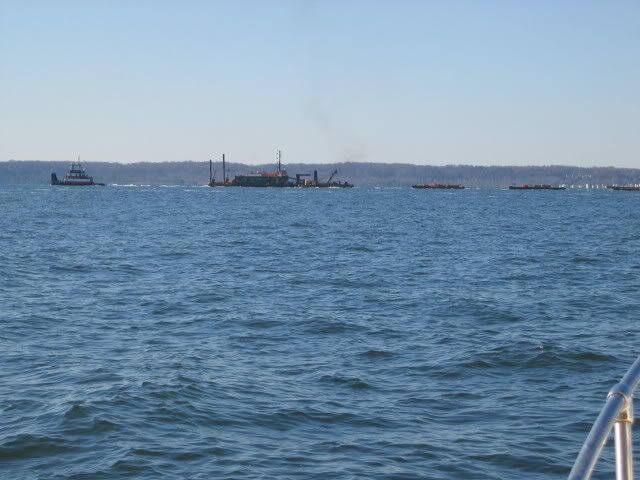 Water temp. was 51* and the wind was about 5 knots.The sun warmed us up - it was almost like a cool spring day.About 11:45 another planer got hit-again the single side.This one ate a white parachute with a purple shad.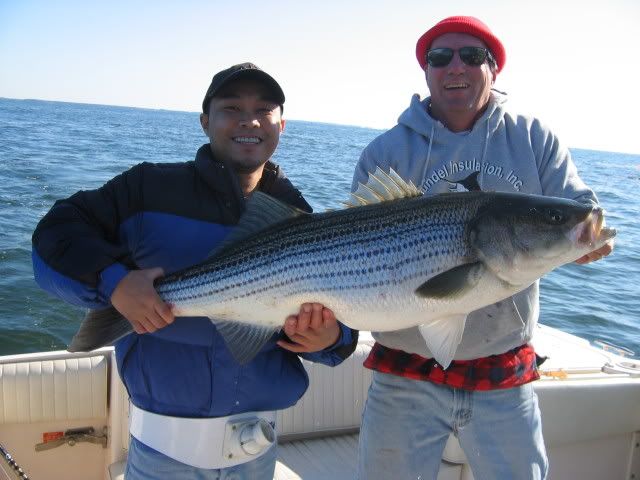 I get them at Marty's - the purple has been doing really well.We caught a fish about every 30 minutes or so and most came from the deeper water.Stayed in the one area - everywhere else looked crowded.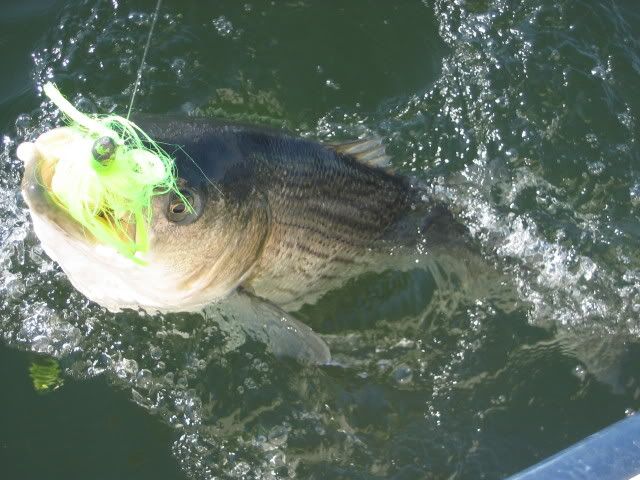 This photo shows how I C/R with no net.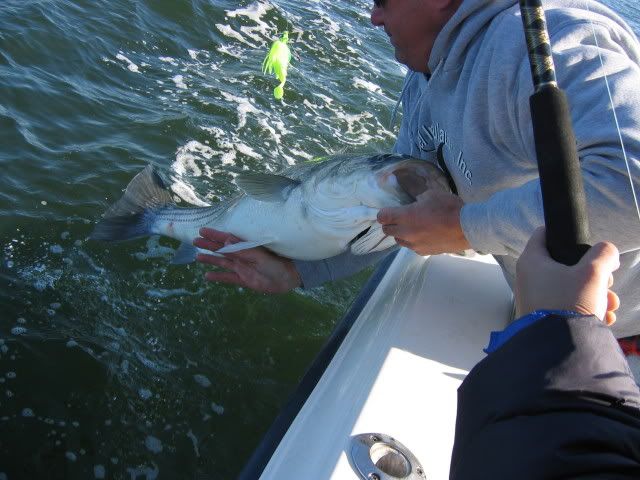 We had 7 fish landed and where about to quit when the WWB got hit.Tung was smiling when he first started reeling it in.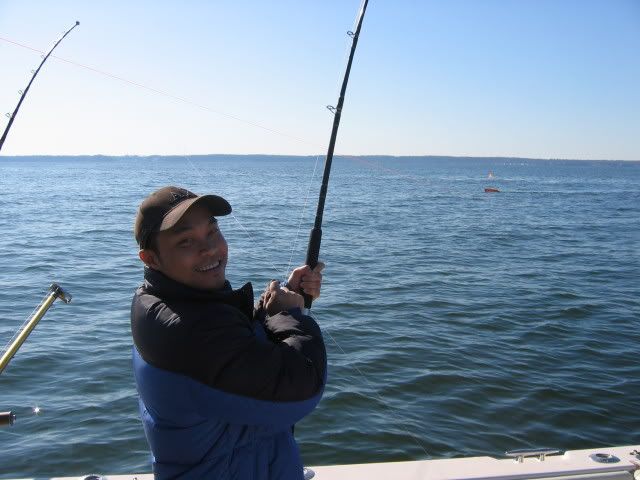 After 320 feet- he was not smiling as much.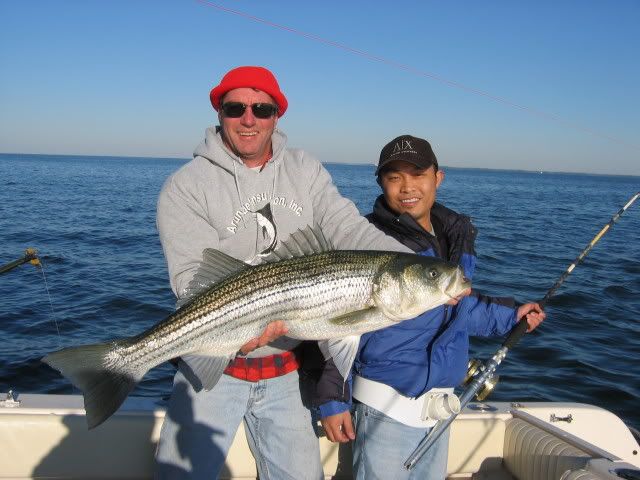 We had that fish released when a single got hit.The guys let me reel it in and soon it was onboard for 20 seconds-just enough for the fish to say cheese.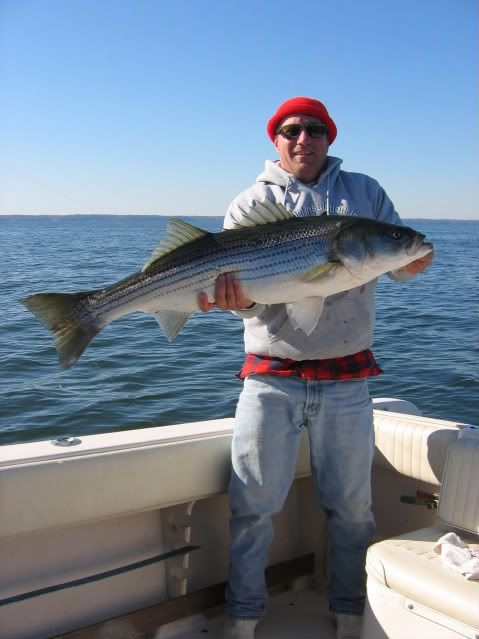 Hung got to reel in the last Rock -number 11.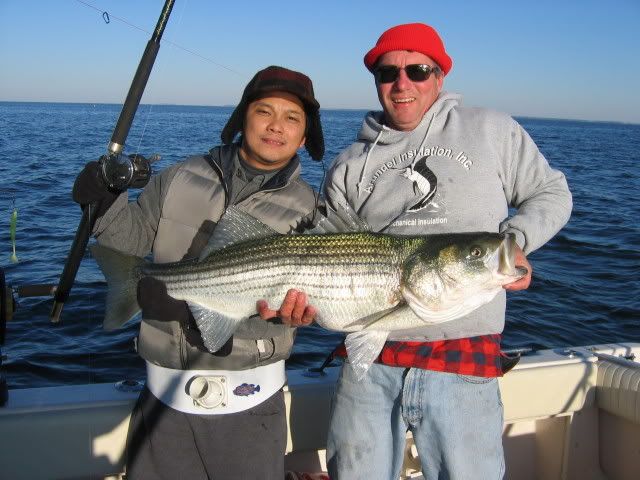 We even caught a Menhadden right at the end.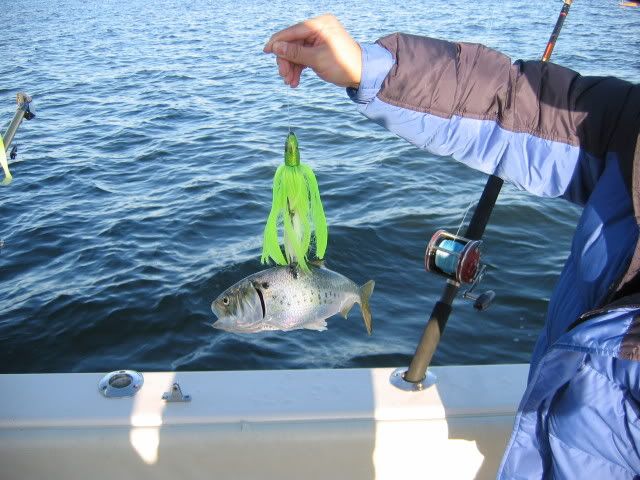 We pulled the lines and ran back to Breezy on almost flat seas.
Got back to the ramp and found a line of boats waiting to retrieve.Everyone got out fast and we talked to alot of other Tfers.It was a great day for mid November - reminded me of spring.