Discussion Starter
·
#1
·
Sunday the wife and I got up early and decided to give trolling 1 more shot before the big fish are gone. It ended up being a good decision. Good coffee, great sunrise, calm water, and a big feesh!
Here's the wife with a 38" fish.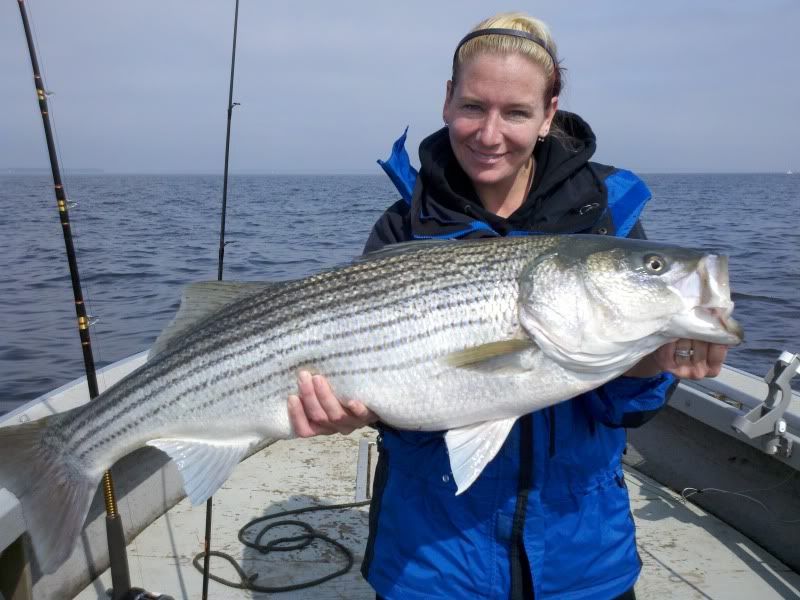 We boated 4 fish, by 10 am. Didn't catch the first one til 9. We dropped the lines in 50 ft of water on the western side and began trolling east. We had a knockdown early but it didn't come tight. We foolishly continued east following the fleet to the eastern side of the bay. SWMBO told me to turn around and head back to where we had the knockdown earlier. We caught all 4 fish in one pass from east to west in 60 feet of water on the western side.
I got home and my youngest saw the results and asked to skip school on Monday. I called my buddy Rick to see if he wanted to keep his youngest home too and make the last trolling trip of the year just for the boys. Getting good grades has it's benefits. We hit the water Monday with the boys around 7:30. We put 4 fish in the box by noon. Ended up with a 32", 28", 24", and a 22". Good eaters. We ended catching a few slot fish on the lighter rods. Even trolling it was alot of fun to feel the fish instead of just hauling in weight. A large crippled alewive spoon with 4 oz of weight back 100 ft was busy yesterday. Also a 4 oz chart bucktail dressed with a hot pink BKD was getting some action.
Here's the boy with his fish for the day. Rick and I were guides for the day. We're going to hit the water next week with light tackle.