Discussion Starter
·
#1
·
From Tidalfish Member DaveOsh (Cubmaster of Pack 355 in Essex)
Captain Wayne Morgan has generously donated a 2009 Trophy Season Rockfishing charter aboard The Frayed Knot for Parents Club of Cub Scout Pack 355 to raffle off. Captain Wayne is famous on this board for providing an awesome fishing and learning experience. One trip with Captain Wayne on the Frayed Knot and if you can't catch more fish afterwards, you weren't paying attention!
Raffle tickets are $5 each and ALL OF THE MONEY supports activities for the Scouts throughout the year. Last year, Captain Wayne helped us raise almost $6000, which allowed us to send any boy that wanted to go to Summer Camp last year.
This year, the drawing will take place on February 15th (tickets say the 17th-typo) at our annual Webelos graduation dinner, the Blue and Gold Banquet. Winner need not be present, of course.
If you'd like to buy one or more raffle tickets, Captain Wayne will have some available at the Fishing Shows this winter (Pasadena and Tri-State). If you don't see Captain Wayne at the shows, please send a check made out to "MD Pack 355", to the following address:
Dave Oshman
914 Frog Mortar Road
Middle River, MD 21220
Include your name, address, phone number, board name and/or email so that you can be contacted if you're the lucky winner. I will send raffle ticket stubs back to the address you provide. I can accept any check I receive up until February 14th. Please send me a PM to tell me that the "check's in the mail".
Here's what the raffle ticket says:
"Trip good for up to four people on an afternoon weekday charter during the 2009 Trophy Rockfish Season. 2009 Seasons dates are 4/18/09 - 5/15/09. All bait, tackle, and licenses are provided. Trip will be up to five hours or until limit is caught. Date chosen by winner must be approved by Captian (sic) Wayne Morgan. All proceeds help to pay for cub scouts summer camp cost."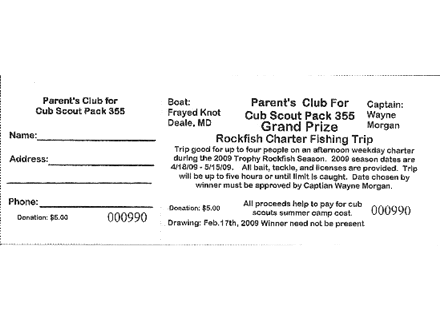 Thank you for supporting Cub Scouts!!!