Discussion Starter
·
#1
·
Friday… I took by bud, Trollin' Tom out for a day of live bait fishing. We met at the dock about 10:30 AM and shoved off. Our intent was to get some more Kingfish for the smokers. We coursed the Bay and climbed onto the patch reefs to find seas looking like a we were on a lake. After a short run to our favorite Ballyhoo patch we pulled up and started bait fishing. They were thick as fleas on a hound dog. We hook and lined a bunch and then I went for the net. ****, I forgot to put it onboard, today! Not a big deal, we simply spent a few more minutes with the rods and we were set.
We ventured off the edge in the glass like water and set out our spread. The fishing was a bit slow but we pecked away at them. The fish were not on a blitzkrieg feed, that's for sure, but their size was above average. We managed to catch a 6, 12, 15, and 22 pound Kingfish and a small football Blackfin Tuna. We never saw a Sailfish or Dolphin and as the sun began to set, we called it a day. Tom and I always have a good time, fish or not!
Sunday… My wife Sharon and I met Devon, Amy (the newlyweds) and Uncle Al at the dock about 8:15 in the morning. Our agenda was a leisurely day of family fun fishing with some pictures and videos if possible. We unleashed The BEAST and the day began. First order to fill was catching our bait. Our bait patch was not quite as productive as on Friday but there were plenty of them all the same. Today I remembered my cast net. We collected more than enough baits so we left the patch and sauntered out into the blue water. I was not real optimistic as we were on a pre/post condition as a front was due sometime around noon. I were hopeful that things would turn on at some point, most likely later that afternoon.
Once again the water and winds were calm with bluebird skies. We put 4 baits out on top and 1 down. A short time into it as we see the small front line coming, and we have a Sailfish up on the long rigger bait. Sharon gets on the rod as the fish eats the bait and it is "Game on"! This fish was an acrobat and unfortunately we missed a bunch of video due to a malfunction of the camcorder. We broke out my camcorder for the remainder of the day. Sharon expertly worked her fish to a tag and release even though she hasn't been fishing in almost 18 months.
The next 3 fish to feed were some average sized Kingfish and we took turns catching them. Then the small frontal line pushed through us with a slight drizzly rain for a few minutes.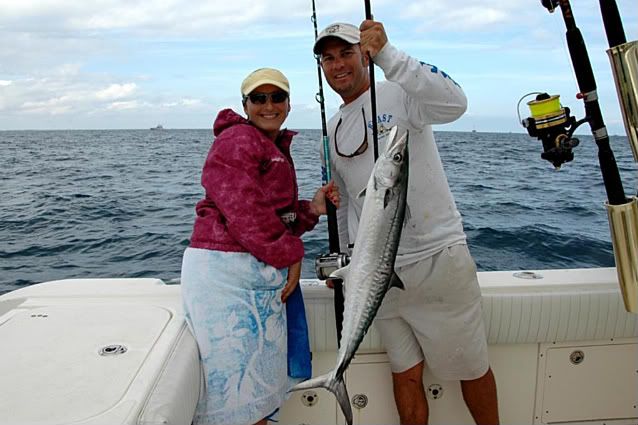 The skies cleared, the temps dropped, and the wind and seas picked up a bit. So did the fishing! The action became fast and furious for the last 3 hours or so, of the day. We caught another Kingfish and Cero Mackerel.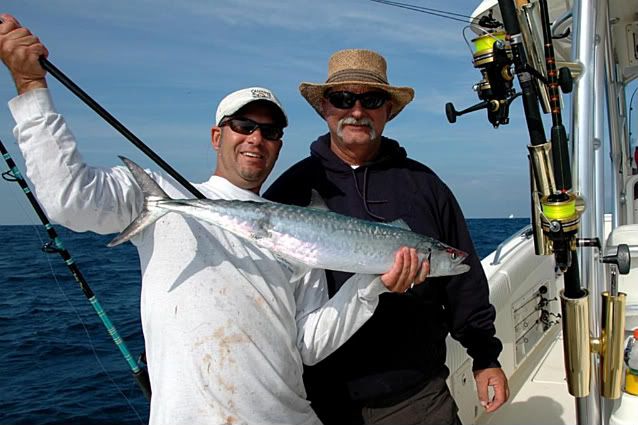 We had a pleasant surprise when a 10# Mutton Snapper crashed a bait fished at 75' in 125' of water. This happens from time to time but not too often.
Uncle Al and Devon were working speed jigs and Al got hooked up to a couple of Blackfin. Al wasn't much of a believer, but the last 2 trips have sold him on those speed jigs!
We also caught a pair of Cobia on the down rod and each time a group of them would follow the hooked fish but they were all undersized, not by much, and returned to the water to grow up.
We had a Blackfin crash the long flat line and I took the rod. A few seconds later and Uncle Al hooks up to a Sail on the long rigger. We quickly boated my Blackie so I could post up on the helm to keep Al on his Sailfish. It was a very large fish, much bigger than average. Al has only caught one Sailfish before and jumped one off on a recent trip with us, so we were hell bent on getting him this Sail. He did a fine job and after 25 minutes on the 20# spinning rod, he led his fish to a perfect tag and release.
As the sun set we turned The BEAST towards the barn. We were in a holiday mood but instead of "visions of sugar plums…" we had "visions of Sailfish dancing in our heads"!!!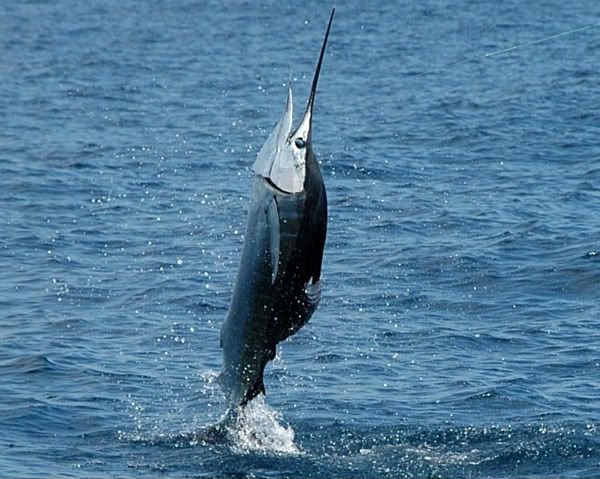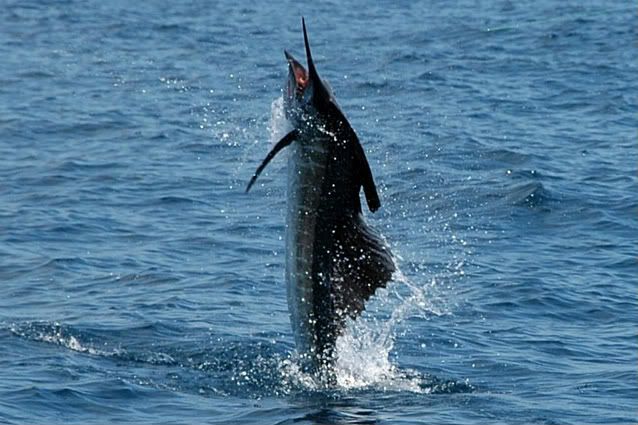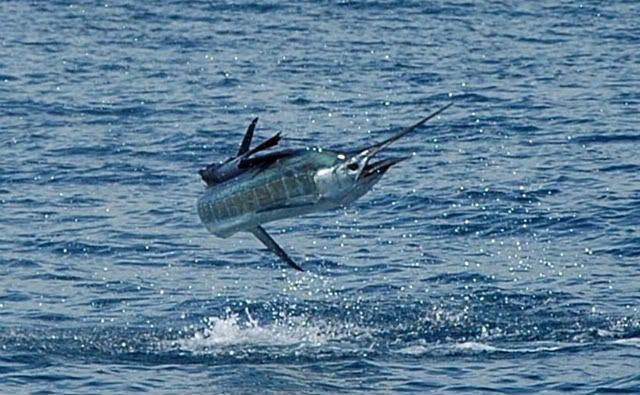 You can also see condensed footage of the trip through the videos! 1st link is condensed of the trip, or if you prefer, the second link is only the Sailfish action with all the acrobatics!
YouTube - Offshore in Miami on The BEAST
YouTube - Sailfish in Miami on The BEAST
This year we are experiencing an above average Sailfish season. I think the continuous back to back fronts are the main reason, but whatever the case, I am loving it. We have reduced our rates to reflect the decrease in fuel costs. So… Give us a call and come join in on the action this winter while the expectations are high and the fuel prices are low.
The crew of The BEAST wants to wish each and every one, Happy Holidays!
Capt. Jim
The BEAST
305-233-9996
[email protected]
Fishing Charters In Miami Florida Beast Fishing Charters