Captain Brady sent me pics of some beautiful flies he tied for the flats. His clients will be fortunate if he actually lets them fish those beauties. He got me thinking about what I want is a flats fly.
Ask ten fly tiers to tie a fly for a species and a particular area and you will get ten different flies. They may all catch fish but some will catch better than others. I come to fly fishing for stripers not like most guys. Many guys start as fresh water trout fishermen. Their flies are influenced by that. I come to it from many years of catching stripers on lures. I am not constrained by tradition. If I think some characteristic of the fly will make it catch better, that is what I will tie. Most of my striper flies are a variation of the Clouser Deep Minnow, the Lefty Deceiver or the Half and Half. I look for certain things in a striper fly for the flats. Here are some of those:
1) The hook is the heart of the striper fly. I like the wire size to be relatively thin and light, but it must be strong. For big strong fish this most likely means not a SS hook which tend to be soft. High carbon steel hooks give you the most strength for the wire diameter and weight. Prefer wide gap hooks. I like to be able to roll my little finger between the material and the hook gap. A long shank hook gives you more options for making a long fly. One such hook is a Owner Cutting Point Straight Worm Wide Gap XXX Strong, 5/0 #5103-151.
2) Bright colors work best in stained water. There is no need to match the hatch. The first requisite for the fish to eat the fly is that he has to sense it or see it. Chartreuse and white work well but there are other bright colors that may work well too. A herring certainly does not have any chartreuse on it, but it is more important that the striper sees the fly than making it look exactly like the bait.
3) Like lots of flash. Normally use both crystal flash and flashabou. I have caught too many fish on a 17 Tony spoon and chrome blue swimming plug to think that you can have too much flash.
4) Make a broad profile. I wrap estaz grande on the hook shank to help lift the buck tail and make a broader profile without using too much material.
5) Make the fly as sparse and light as you can for castability. We can tie flies the size of a mop that may catch fish, but who wants to cast them?
6) Hook point up. The Susky Flats has lots of obstructions on the bottom and dead, slimy SAV in many areas of the bottom. Deceiver flies without weight with the hook point down will snag more stuff. I like fishing them where the bottom is cleaner or where you do not need to get to the bottom to catch the fish.
7) Flash tail. I like to let the flash stick back behind the bucktail. It will flutter when stripped.
8) I like striper flies about 7" long for the flats, where there is big bait and big fish. In the ocean in winter I go a little bigger.
9) Rattles. They make rattles for flies. I do not use them because the are small and I cannot see them making any difference. Some guys swear by them for the stained water on the flats. If I could make a fly rattle like a rattletrap of big plug with rattles, I would use them. Fly rattles are too small and feeble, IMHO.
I am not a professional fly tier and have never taken a course, so many may disagree with some or all of these points and that is fine. I do have lots of confidence that my flies will catch big fish because they have many times.
The fly below is not looking too pretty right now because I just tied it and moistened the hackle to make it more manageable. It is still wet. It will be more fluffy and full in the morning.
Here is the same fly tied with all bucktail--a second clump tied in at the hook bend to create the length.
Fly caught striper on the flats.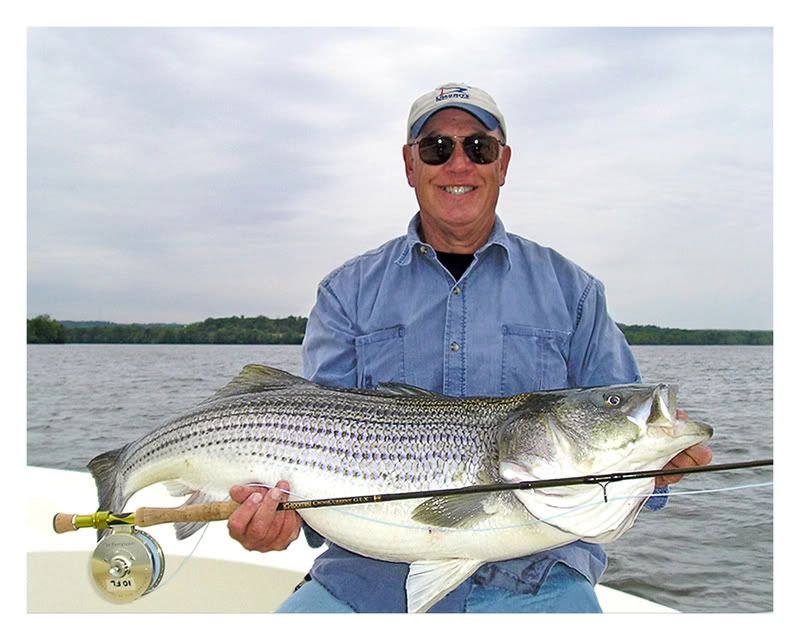 Hope to get another fly caught striper like this yet this year.