Discussion Starter
·
#1
·
Fellow Tfers REM1224 ( Ralph ) and Tim met me at Sandy Point at 9:00 am. Figured we'd let it warm up a touch before heading out. Had short wind window to work - small craft posted around 2:00. Launched boat on low tide and Tim saw a license tag underwater. Was not off my trailer but he was able to get it with long handled net.
Only 5-6 other trailers in lot and only one parked like it might have used same ramp. Quick check and found who had lost it. Put it on windshield under wiper so they would find it. If you are one who lost it and are reading this - we like Bacardi Rum :yes:.
With good deed done - idled out and then ran SE towards Mattapeake. Saw three other boats trolling so we went few miles south to find vacant area. No sense crowding others and we planned around a south wind picking up later in day. Always easier to run with it back to ramp. Set up in 55 feet and worked SE to SW pattern across channel.
Tim got first fish - nice 41 + that hit a tandem off board - 6 oz Spankin' Striper redhead with white shad.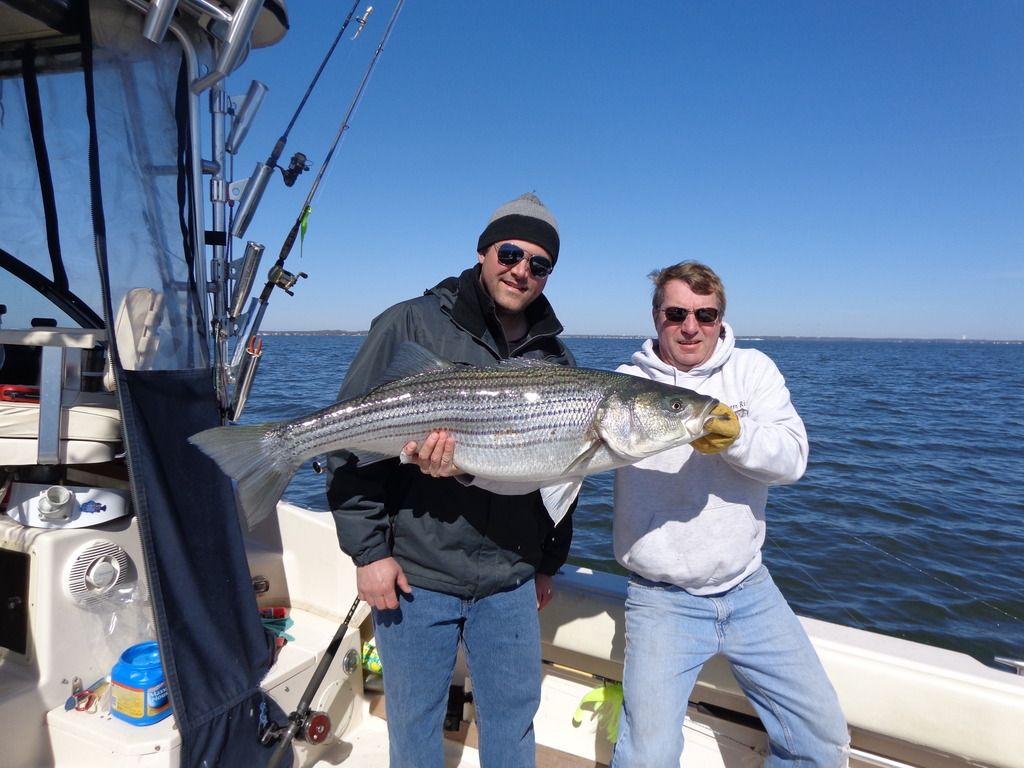 Great start so we circled area and hoped for another. About an hour and 1/2 dozen donuts later - Ralph got to reel in a nice 41 incher that hit a favorite lure. Sorry - I only share so much info. We noticed a few gannets flying around and now / then one would dive. Wind slowly picked up but nothing bad. Tim broke out subs and if you fish - you know what happened next.
Sure enough - boat road 6 / 2 tandem back 200 feet got smacked. Guys let me reel it in - smallest fish of day but at 40 3/4 - still worth a C/R citation. It hit chartreuse 2 oz Alien - battered with one eye but still catching. We had some camera troubles but luckily got proof on cell phone.
Had to laugh at depth we hooked up in.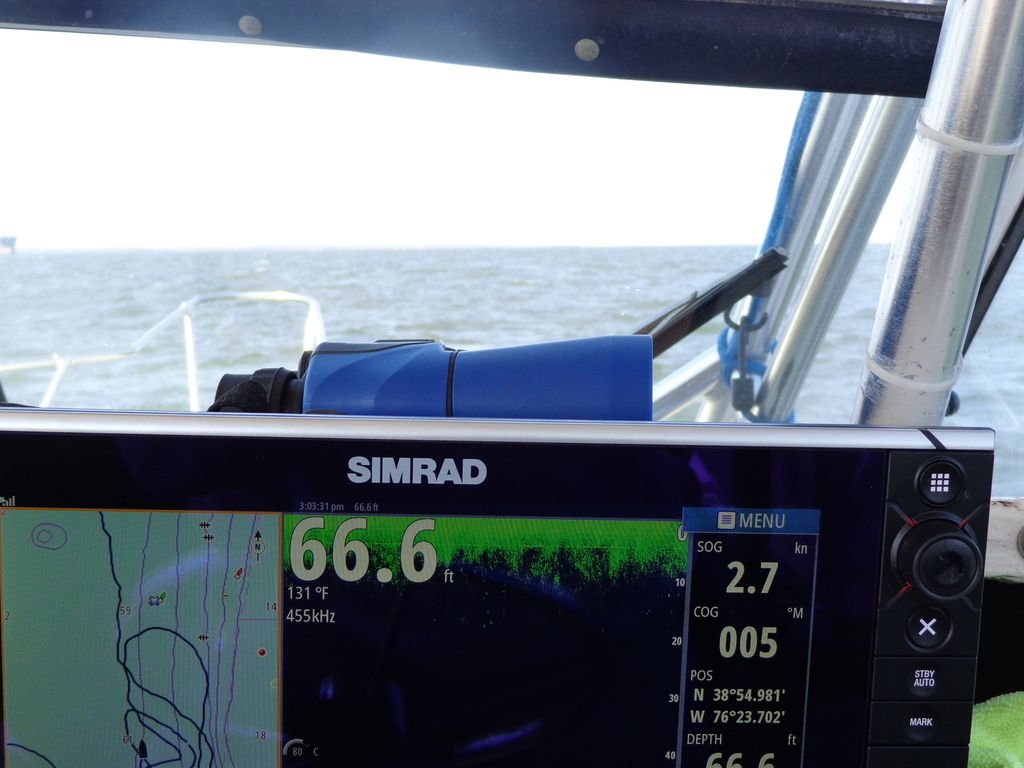 We zig zagged along channel as wind steadily picked up pushing whitecaps and a few 3 foot rollers. We hoped to get more fish but only had one half hearted hit that muffed up parachute hair. Saw some patches of bait in 45 but all fish were caught in 55 to 80 feet. Got back to ramp about 5:00 - leaving plenty of day light to give boat a well deserved washing.