Discussion Starter
·
#1
·
Launched from Truxton Park (Spa creek) at 7:30 with fellow Tfers Hdrunk (Jeff) and Klramp (Ken) and headed out to look for Spot.Water temp has dropped to 63-64 degrees
but we had fresh bloodworms plus outr fingers crossed.Just before the drawbridge-we saw a 36 foot sailboat aground.asked if he needed help but he said TowBoat was on the way.Wish I had snapped a photo - he was within 50 feet of a day marker but on the wrong side- OOPS.
Got past the 6 knot zone and ran upriver.Stopped at the Rt 450 fishing pier to pick up some sinkers
.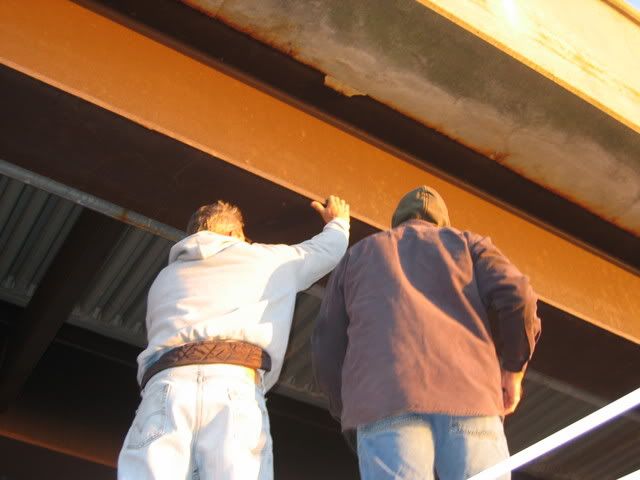 We then stopped near Manressa and saw a few scattered marks on the bottom in 18 feet.It was flat calm so we drifted along.I felt the tap tap tap of Spot and reeled in two of the prized baits :thumbup:.Quickly dropped anchor and started catching White Perch
.Just about ready to move and then Ken got a few Spot-then Jeff did also.It took about an hour but we caught about 15 of them.Tried a few drop offs for Rock and Ken had a good run off but the hook missed the Rock.Jeff caught two but both were about 17 1/2 inches.I got a good hit and reeled in a 20 incher.It was 10:00 so we ran upriver to be at the Asquith creek reef dedication.There were a few big boats there and alot of people.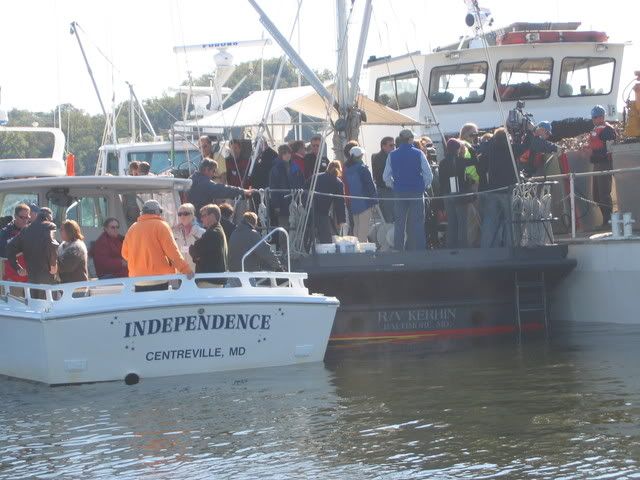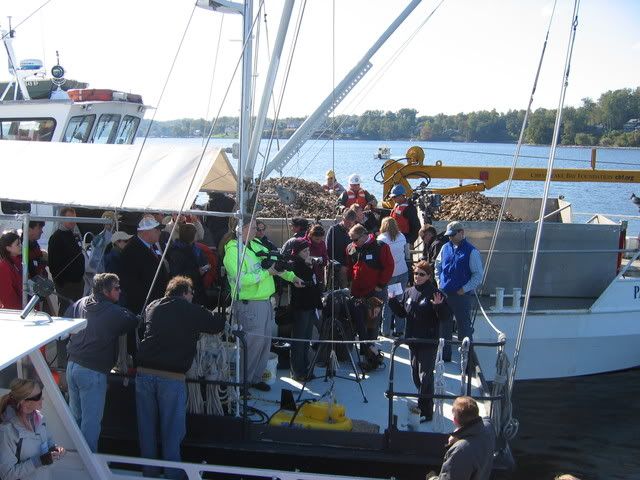 I was going to go diving but felt it would distract from the ceremony.Good thing because each attendee was given a brick size piece of rubble to throw in- the last part of the reef.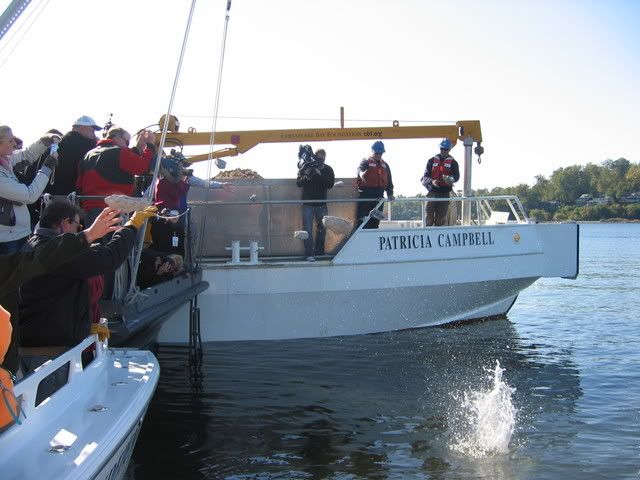 Talk about a headache
.After we left-the oyster spat was seeded on the reef. The weather was perfect and after the get together-we ran back out towards David Taylor to try for Rock.The Severn is a tough place to fish-somedays she gives up fish left/right- other days you would swear no fish are there.There was little current so we decided to run out to Hacketts to find more Spot.Set up anchor and found we were facing west-the north breeze and incoming current held the boat sideways.I had set up to fish about 28 feet but ended up in 22 feet (nice edge :thumbup
near the can.We caught alot of Perch-some decent size but had to reanchor out east of the can.Found Spot and put 12 in the livewell.Ran up to the western rockpile and saw a hook/liner leaving.We tried there for about an hour but only had one half hearted hit.The cooler water seemed to wear the Spot out and soon we were out of frisky ones.Ran to Dollys and after an hour caught 3 Spot.The current was almost slack but we tried them anyway.One got flung off the hook
, one got snagged and the other hit against a rock.It was after 4:00 so we called it a day and headed in.The boat wanted to go to sandy Point but I steered her south-back to the Severn.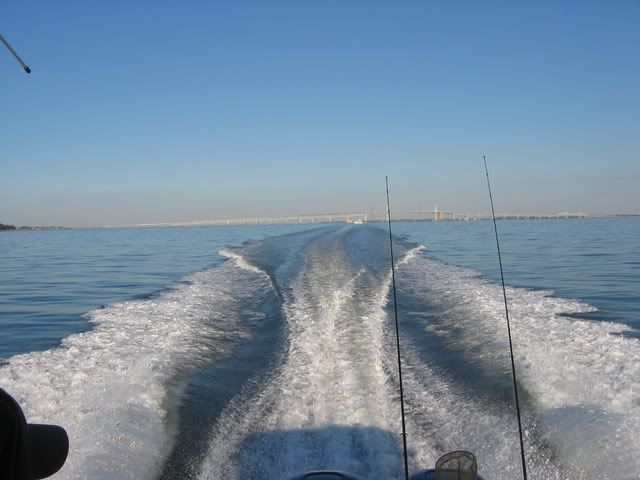 Only had one in the box but it was a really fun day.Weather was perfect - October is a great month.Looks like time to dust off the trolling rods.There was alot of bait in the Severn and off Dollys we saw massive schools of baitfish.