Discussion Starter
·
#1
·
for those who don't know, i am building the Tug Along 16
Build in STITCH & GLUE PLYWOOD
Characteristics 16' Version
Length overall 15'10"
Beam 7'9"
Hull depth midships 41"
Hull weight (approx. lbs.) 450
Overall height 7'7"
Cabin headroom 6'6"
Water capacity 6 gals.
Holding tank (gray water) 6 gals.
Fuel capacity 11 gals.
* Hull type: Flat bottom, developed for sheet plywood with rounded stern. For standard sized plywood assembled by the Stitch and Glue construction method.
* Power: Outboard motors to 15 hp.
* Trailer: Designed for use with Glen-L Series 1200/1800 boat trailer plans.
TUG ALONG is small, not quite 16' or 18', but with it's 7' 9" beam, it seems much larger. The main cabin has 6' 6" headroom and with all the windows seems huge. There is room on one side for a small galley with stove and sink while the starboard side has space for a portable head, storage, and a nice helm station.
The rounded stern is distinctive and the outboard motor (if short shaft) is concealed under the decks and runs in a partial tunnel. Yet the rounded stern is not difficult to build with the furnished patterns.
Sleeping accommodations are spacious for such a diminutive craft. The vee-berth is lengthened by filler cushions that store under the side decks when not in use. When converted, the berth provides a maximum width of 5' 6" and a length of about 6' 3". When not expanded for use, there is space for a roomy helm station and passenger area.
The simple flat bottom hull provides excellent stability, but combined with the high windowed cabin is not intended for open sea use. This is a boat to enjoy in quiet water bays, lakes or rivers. You are floating on the water supported by a large (comparatively) flat surface that won't rock from side to side when someone moves. A boat for the practical economy-minded sailor and one that the entire family will enjoy.
so yesterday i spent the afternoon drawing up lines for the bottom. Today, i decided to cut out the bottom aft portion of the boat. i tacked two pieces of the 5/8" ply together and i cut them out with the jig saw.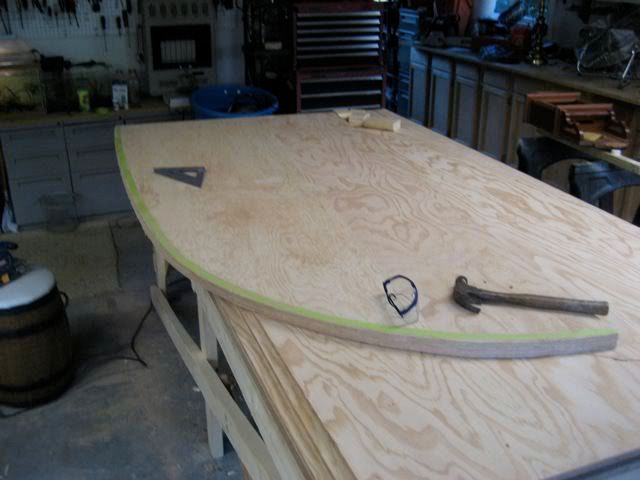 after that, i sanded the edges so they where nice and smooth with the belt sander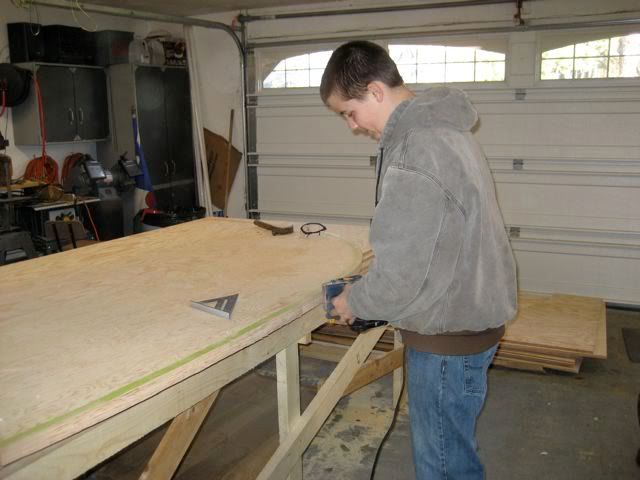 then i pulled the nails out and this is what i got: