Discussion Starter
·
#1
·
Yes... it's another schoolie report.
Splashed the boat around 11:AM to try the Coleman bridge again today. Released a couple at 18-19" pretty quick, and continued toward the Yorktown side looking for some bigger fish. Got a good hit at the first big round piling and reeled in a healthy 22"er. A few more drops up current of the structure and I hooked a good ~27" fish for my limit.
)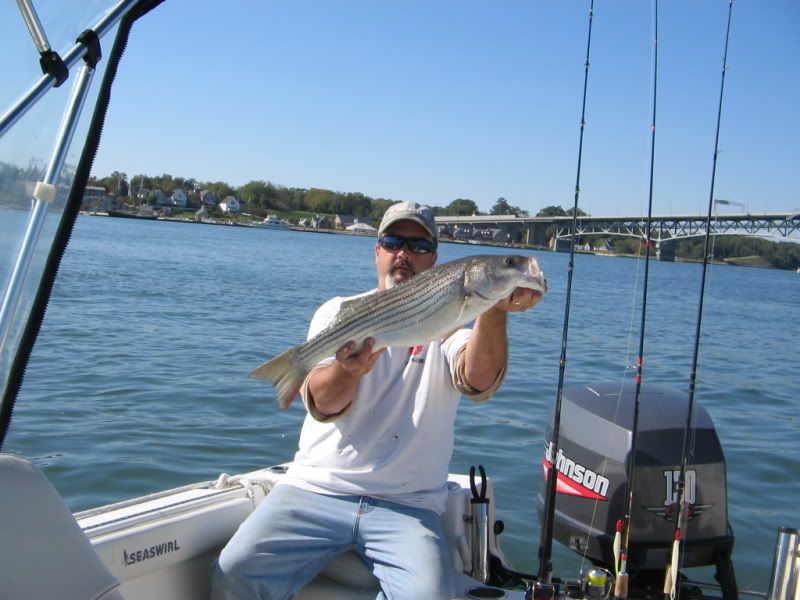 Still had plenty of time to fish, so I made a couple phone calls to see if someone was up for some fishing. Just like last Sunday... fishboy01 wasn't doing anything and headed for the ramp.
I C/R'd a few more around 20" or so while I waited and re-rigged a couple of gnarled leaders. The phone rang, I picked him up and we went back to fishing.
Getting the jig in the right spot is not easy when the current is strong and the current was ripping pretty good now. Several drops, drifts and snags and we finally found a working program. Brian hooked another nice ~27" fish for the cooler and we caught a couple smaller fish here and there.
At some point in the 'here and there' catching, I dropped a new color for me....a 6" chartreuse bass assassin stuck to the same 1oz red jigs I've been using. It hit the bottom in a good spot and I hooked into a nice fight. This one was over 30", and saved us some trouble by releasing itself boat side. Shortly after that Brain hooked another ~30" fish on a 2oz red jig w/7" chart/white gulp jerk shad in about the same spot.:clap: Needless to say...chartreuse is my new favorite color!
The fishing slowed to a halt with the slowing outgoing current and we called it a day. Overall we caught around 10 or so fish with most being in the 18-20" range and kept three for the fire. We caught most of them ~30-35' down on the 'ledge' up current of the pilings or just as the jig rounded the corner in the current. We were getting hit
very
close to the wall of concrete... anywhere else and it seemed we were just wasting time.;-)
Weather was perfect and the fishing was good. Hope some of the other boats out there today got some meat in the box.:yes: Another fun day burning a little gas, catching some nice schoolies, and some slot fish to boot....under the bridge!:clap::clap::clap:
James