Discussion Starter
·
#1
·
I haven't checked in for a while because I've been pretty busy with work and the holidays, and I'm also recovering from an irritating cold. I felt well enough to hit St. Mary's Lake today from about noon to 3pm to test out my zippered waders and to experiment with the new lures I got for Christmas. I decided to shake things up a bit because I always fall into the same routines. I limited myself to only one "old reliable lure" at a time--my other two rods had to be rigged with something I've never used or an old lure rigged in a new way. I also decided to run and gun rather than beat the water to a froth in a few places like I usually do.
The work on the dam was completed last week, and the lake is only about 2ft lower than normal. Most of the lures I got for Christmas were crankbaits, so I headed to the same spot where I saw all the pickerel stacked up on my fishfinder last time I was there. I trolled a firetiger Thunderstick Jr., which dives down about 6-15ft, which is about where I saw the stacked pickerel. The water was really muddy, and I didn't find the same kind of marks in that spot, but there were lots of marks in the area. It was fairly windy, blowing close to 15mph at times, I think, so the marks I was seeing could've been leaves, sticks, etc. I jigged a silver buddy around a bit to no avail. I was tired of being blown around, so I headed for a sunny cove that I though would be in the lee while trolling the Thunderstick. In the cove, I found that the wind was blowing 90* differently than out in the main lake, i.e. straight down the throat of the cove. Go figure.
While in the shallow parts of the cove, I chucked a 3" gold Rapala X-Rap and a firetiger Bomber Square A. Both lures have awesome action, but the fish didn't buy it. Around 1pm, I stopped for lunch, worked on the game plan, and saw an eagle looking for its lunch.
After lunch, I finally caught something on my trusty 1/8oz, 2", chartreuse, twin tail grub (an old reliable):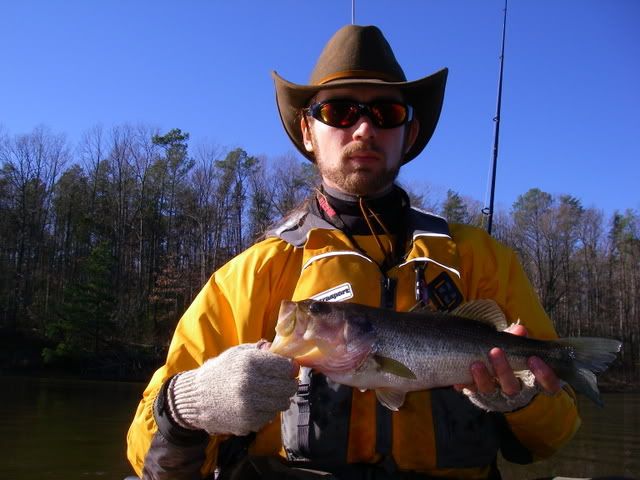 I tried to smile for this pic:
Apparently, I have the same range of facial expressions as Keanu Reeves.
p Oh well. I forgot to measure it before I released it, but I guess it was around 15" based on the width of my fingernails. I caught it in less than 3ft of water in a sunny spot near some brush on a slow retrieve.
I switched to a 2" firetiger floating Rapala minnow on one rod and a 4" BA in gold/red or electric chicken on the other rod. The BAs were rigged with a 1/8oz Daichi butt dragger hook for "swimbaits", and it makes for awesome jigging action. I kept moving and casting these lures and hooked a small pickerel on the Rapala, but it somehow spit out the lure before I got it in the boat. It was pretty skinny and looked an optimistic 15-16" long. The pickerel in St. Mary's Lake seem a lot skinnier than similarly sized picks from the Severn. I haven't gotten many big picks in St. Mary's, though.
I had a few hits on the BAs but missed them. I'm not sure I had the hooks rigged properly. I think I had a couple hits on the X-Rap, too, but I'm not sure. I might've just hit the bottom. No hits on the Bomber or silver buddy or a floating Bass Pro minnow lure.
So my three victories were:
1) a decent bass on an old lure
2) a little pickerel on a new lure
3) successfully taking a leak while in my yak courtesy of my zippered waders (it's good to have goals).
Things I learned:
1) I have a lot more to learn about using crankbaits
2) I should've brought more rods since I was experimenting today
3) Changing strategies/tactics makes for an interesting day.
4) Even the weatherman doesn't know which way the wind is gonna blow.