Discussion Starter
·
#1
·
Maryland anglers who fish in Virginia waters are welcome.
Please join us for this event, Saturday, March 12th, 8:30 am to 12:30 pm at VIMS Auditorium (Waterman's Hall),
1208 Greate Road, Gloucester Point, VA 23062
. Our keynote speaker is the
Commissioner, VMRC Mr. John Bull
. He will be talking about the fishery management process and how the angling public can become more involved to influence decisions. It will be a great opportunity to ask questions directly to the Commissioner. Lots going on in the fishery world such as cobia, striped bass, menhaden, seabass, tog, flounder, etc.

We will also have a town hall forum were members and anglers can express their concerns about saltwater fishing that concerns them the most. This will shape VSSA's agenda for the coming year.
If you can't make the event in person, we will be broadcasting live. You can view the live broadcast by clicking here:
http://vims.adobeconnect.com/sportfishing/
Elections will also occur IAW the VSSA By-Laws. If you are already a VSSA member and have not received your ballot, please let us know by sending an email to:

[email protected]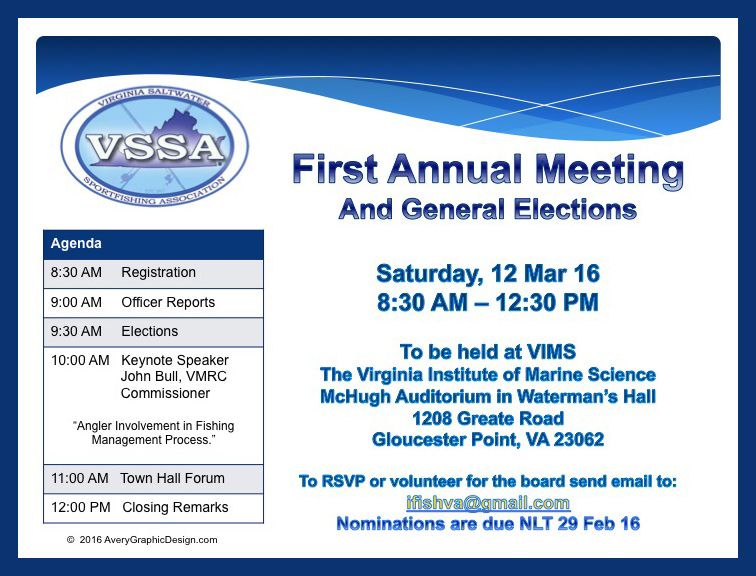 Virginia Saltwater Sportfishing Association (VSSA)
email:

[email protected]
ifishva.org
joinvssa.org
https://www.facebook.com/groups/IfishVA/