Woke up at 5:AM this morning for no particular reason. I went Coleman bridge fishing yesterday and thought that would hold me over 'til the weekend, but I guess not...
Loaded the boat, disturbed 7 eels from their new home in the back yard, and hit the Coleman Bridge ramp at 7:AM sharp. Not a bridge fishing day today...I was on a mission for something a little bigger.:yes:
I arrived at OPL at 8:AM and had lines in shortly thereafter. Two under floats, and two freelined with 1/2oz egg sinkers. Sat back and was just getting into relax mode when one of the freelines took off. Reeled in a 30 something inch release slot fish and let em go. No sooner did I get that line back out in its spot and one of the floats took off. A little better fish at 36"... should I box it? Nah, with the bite this hot I'm bound to get a better fish, so I released this one as well.
Yep, "Hot bite"....
as I was resetting the depth on the float to put it back out something yanked the line out of my hand! The eel couldn't have been more than 4 or 5' under the boat and it got nailed. By the time I figured out what was up and got the rod in my hand it was too late. I felt a tug and then nothing.:cool2:
It was 8:26AM now and I was looking forward to doing this all day, but wouldn't ya now it... bite shut down. I picked up to start my second drift a little south of where I started and drifted across the channel again without a nibble. 3rd drift was a little further south of that and I got a hit on a freeline that just bounced the rod.:yawn:
Decided to go back where the hot bite was and started drifting north towards OPL. About mid channel I was distracted while changing the radio station and when I turned back around one of the floats was gone. I found it.... it was following a 42-1/2" striper around.:clap: I kept this one!:yes: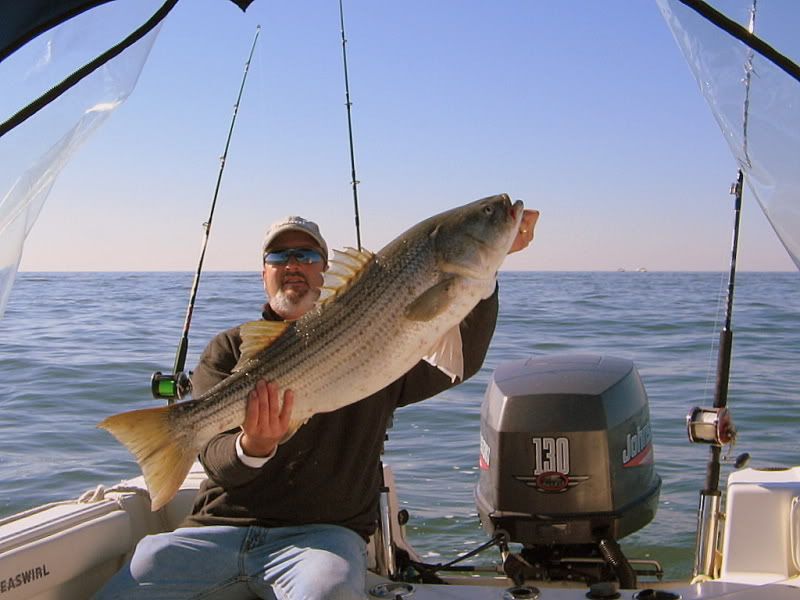 It was ~12:30 and I had my fish, but I had talked to Fishboy01 earlier and he was on his way over in his boat. Figured I could wait a while to at least let him know if the bite turned back on where I was fishing. Heard him on the radio around 1:45 and he had gotten into some birds on the way over and was running late. He went south and I went west in search of those birds.
I found them, but by the time I got there they were surrounded by boats. I just kept going....back to the Coleman Bridge.;-) It took about 20 minutes around the bridge and I got my under slot fish at 26". Boxed it and ramped it.
Great day of spur of the moment, unplanned, solo fishing, with a limit. Best vacation day of the year so far and with today's weather... what else could I have done?:thumbup:
James